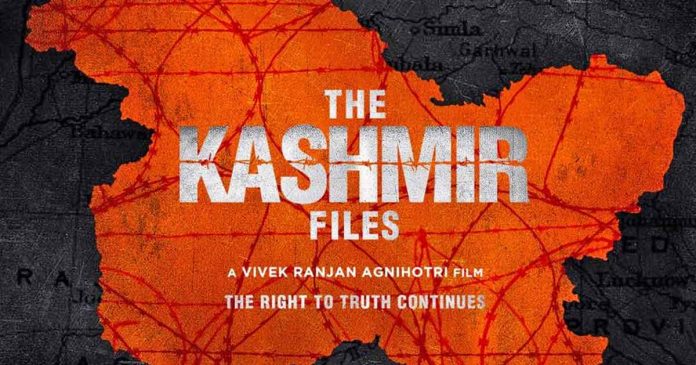 For several displaced Kashmiri Pandits, the film's depiction of Kashmiri Muslims as villains is untrue and will not help the battered community in their relocation and rehabilitation in Kashmir. 
Fateh Guram and Rishabh Jain | TwoCircles.net
---
Support TwoCircles
---
JAMMU AND KASHMIR — Several Kashmiri Pandits residing in Jagti township on the outskirts of Jammu city have expressed displeasure with Vivek Agnihotri's hit Hindi feature film The Kashmir Files, saying the "film doesn't do justice to the plight of Kashmiri Pandits and makes them more vulnerable."
Jagti township was created in 2011, and nearly 4000 displaced Kashmiri Pandit families live here. 
Talking to TwoCircles.net, Sunil Pandita, a social activist based in Jagti township, said, "the film will not help the Kashmiri Pandit community in any way." 
"It will only help Vivek Agnihotri, the director of the movie, as it has earned more than 200 crores," he said. 
Pandita said the movie has represented Muslims (who form the majority in Jammu and Kashmir) as villains. "This depiction is going to make the life of 5000 Kashmiri Pandits residing in the valley difficult," he said. 
Pandita's fear of reprisal was echoed by the Kashmiri Pandit Sangharsh Samiti (KPSS), a Srinagar-based organization advocating for the welfare of resident Kashmiri Pandits. On March 16, four days after the film The Kashmir Files was released, KPSS tweeted, "Kashmir files make resident Kashmiri pandits unsafe."
Kashmir files makes resident kashmiri pandits unsafe

— KPSS (@KPSSamiti) March 16, 2022
The Kashmir Files claims to depict the exodus and the killings of the Kashmiri Pandits during the early nineties. Pandita said that the movie has been made with a certain agenda. "It follows the ideology of the right-wing parties and groups like the BJP and the RSS," he said. 
Pandita said he has been receiving threats ever since he started "openly criticising the film." During a rally in support of the film, Pandita alleged that dozens of motorcycle-riding "BJP goons" harassed and threatened him. "They were drunk. They came outside my residence and used foul language against me. My wife fainted twice and was so afraid that she did not let me step out of home," he told PTI.
KPSS's tweet came in the light of the hate that has been generated both online and offline. Since the release of the film, social media is filled with videos of people speaking against the Muslim community. In a video, which was also shared by BJP MP West Delhi Parvesh Sahib Singh Verma, a man claims that "if we don't stop Muslims now, incidents similar to the massacre of Kashmiri Pandits will happen across India."
चलो इस भाई को तो समझ में आया, सभी को आएगा धीरे – धीरे मगर शायद तब जब आग आपके घरों में पहुँच जाएगी। #KashmirFiles pic.twitter.com/iXTdlWvB1t

— Parvesh Sahib Singh (@p_sahibsingh) March 14, 2022
Another Kashmiri Pandit, who did not wish to be named citing safety concerns, said she wasis scared of taking a stand concerning the film. "There are a lot of things which I wish to say, but I have to censor myself. People who have spoken out against the film have been threatened by members of the BJP, while the film has also made life tough and unsafe for us in Kashmir. Hence, I have decided to not issue a statement on the film," she said.
Film depicts half-reality
Mohit Bhan, a Kashmiri Pandit and National Spokesperson for the People's Democratic Party (PDP), which was in power with the BJP in the last civilian government in Jammu and Kashmir, told TwoCircles.net that "the film The Kashmir Files will result in the lengthening the reconciliation process in the valley."
"No one denies that the exodus happened. No one denies that the killings took place. The Supreme Court failed us and the Parliament failed us in delivering justice, but the reconciliatory way which could have been adapted is critically missing from the film. This has, in turn, helped the right-wing fringe to hijack the original issue, and the genuine cause of a suffering community has gone on the backburner."
He further said that people across the country only remember the plight of the Kashmiri Pandit community when a movie comes out. "Everyone starts talking about our issues, and within a few weeks the hullabaloo dies down," he said. 
Questioning the role of the government, Bhan said that "the Indian National Congress remained in power for almost 14 years after killings and migration of Kashmiri Pandits, and even the BJP has been in the absolute majority now for eight years now but what steps have they taken to bring Kashmiri Pandits back to the valley?"
Stating that there is not a single person in Kashmir who says that Kashmiri Pandits did not face injustice, Bhan remarked, "From Qazigund to Gurez, everyone admits that injustice took place. So why are we blaming an entire (Kashmiri Muslim) community?"
Bhan said the incendiary speeches have been made by people who are not Kashmiri Pandits. "The way no action is being taken against such people is going to discredit a genuine issue for which people have been fighting for close to three decades," he said.
For Sanjay Sapru, a technocrat and social activist, who is now based in Gurgaon but is originally from Srinagar, watching the movie was "a reminder of the atrocities that his family went through in the past." 
"However, the most important issue for our community is our rehabilitation in our ancestral land," he said. 
"We want to go back to our homes, our culture. If we continue living away from our home, we will eventually forget our culture, and our traditions, and will be assimilated into the dominant Hindu fold. Keeping your language, your culture alive in an alien land is a difficult thing," he said.
Sapru said that when the BJP government came to power in 2014, he, just like many other Kashmiri Pandits, had expectations about their rehabilitation. "Further, after the abrogation of Article 370, our hopes increased but till today no concrete step has been taken in that direction."  
Sapru said that the film is "nothing but marketing the miseries of the Kashmiri Pandits." 
"If Vivek Agnihotri is concerned about the plight of Kashmiri Pandits then he should donate a part of his earnings to set up a hospital or even a water treatment plant at places like Jagti colony where people still do not have proper living conditions," he added. 
Versha Koul, a Kashmiri Pandit residing in Delhi believes that the film fails to address two critically important issues—one is the rehabilitation of the Kashmiri Pandits even after 30 years of displacement and the second one is the unhygienic condition in the migrant camps.
"I have lived in a migrant camp. I have seen how pathetic the conditions are there. Many women often walk nearly 10 kilometres to use a public washroom, which is not even cleaned properly, thus exposing us to diseases. We don't even have proper drinking water, but no film has ever highlighted these extremely pressing issues," she told TwoCircles.net.

Fateh Guram is a Delhi based freelance journalist covering human rights, caste and communalism. He tweets at @GuramBhaaji. Rishabh Jain is a freelance journalist writer based in New Delhi who writes on minorities and society. He tweets at @ThisIsRjain. 
SUPPORT TWOCIRCLES
HELP SUPPORT INDEPENDENT AND NON-PROFIT MEDIA. DONATE HERE