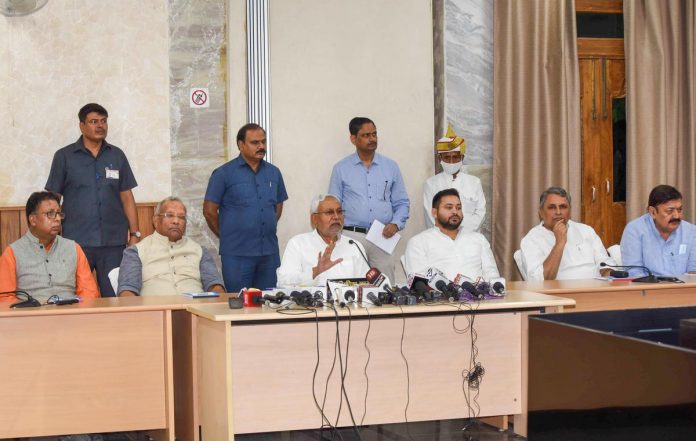 BJP leaders in the state have demanded that "no Rohingya or Bangladeshi infiltrators" be included in the census and are pressing hard for a law on population control in the state.
Sami Ahmad | TwoCircles.net
---
Support TwoCircles
---
BIHAR — After being pushed to the back foot in Bihar over the caste census announced by chief minister Nitish Kumar, his alliance partner Bharatiya Janata Party (BJP) is trying hard to counter it by targeting Muslims of the state, especially in the Muslim majority Seemanchal region, by talking about infiltration and population issues.
BJP leaders like state chief Sanjay Jayaswal, central minister Giriraj Singh and former minister Ravi Shankar Prasad have demanded that "no Rohingya or Bangladeshi infiltrators" be included in the census. The party is also pressing hard for a law on population control in the state.
Nikhil Anand, BJP OBC Morcha's national general secretary told the media that they (BJP) were not strictly opposed to the caste census but "the time frame, complications and preparation was also important."
Although there is no official figure on the number of Rohingya and Bangladeshi Muslims in the state, it was discussed in July 2021 during a hearing of three trafficked Bangladeshi women in Patna High Court. 
Both these demands are considered to be part of the party's Hindutva agenda. Many believe that BJP is trying to compensate for its loss of face on caste census by pushing its Hindutva agenda and trying to prepare the ground for dumping Nitish Kumar and his party in the future and catering to its core voters.
Janata Dal United's (JDU) MLC Ghulam Rasool Balyavi told TwoCircles.net that BJP knew very well the stand of the chief minister on these two issues. "And if the BJP wants to part ways, who can stop them?" 
"Instead of providing solid evidence, they are just making allegations. It does not work that way," Balyavi said. 
BJP is also trying to undermine the exercise by insisting that it should be described as a headcount of all caste persons rather than a caste census. BJP is also concerned with the fact that more Muslims may be included in the OBC category after the census. 
It was after much reluctance that the BJP gave its nod to the caste-based census in the state. The state government approved it on June 2 calling for the involvement of all religions and communities. The caste census is to be completed by February 2023 at the cost of Rs 500 crores. Bihar has a population of around 14 crores and it is estimated that 16-17 % of them constitute the minorities.
The caste census is expected to have a great impact on policy decisions and the power politics of the state. This decision may encourage other states to follow suit, which the BJP and its ideologues wouldn't like to happen. They term it as divisive and apprehend caste strife while the supporters of the caste census say that it is necessary for ensuring "jiski jitni sankhya bhari, uski utni hissedari" (share in all spheres of life should be proportionate to their numbers).  
The decision to conduct the caste census was long-awaited even after getting approved by the Bihar Legislative Assembly in February 2020. Last year in August, an all-party delegation met prime minister Narendra Modi to push for the caste-based census in the state. 
'Census will ensure proportionate power sharing'
Former member of Rajya Sabha and a prominent leader of Pasmanda politics Ali Anwar terms it a positive step for minorities, especially Muslims. Talking to TwoCircles.net he expressed hope that the "caste census will help in countering the religious polarization policy of Hindutva forces to a considerable extent."
Former director of Xavier Institute of Social Research at Patna, Dr Jose Kalapura, said the new caste census was important as the last caste census was conducted in 1931 during the British rule to uplift the downtrodden sections according to their numerical strength. "It will help in understanding the categories of people in different layers of a hierarchical society and ensure proportionate power-sharing," Dr Kalapura told TwoCircles.net. 
With the new caste census, Arshad Ajmal, who is COO at Sahulat Microfinance Society, said that he was hoping "members of different castes of the Muslim community will assert their representation in different sectors."
For Dr Kalapura, the demand for resetting the reservation percentage would come to the fore after this exercise.
Why has Nitish Kumar been pushing for a caste census?
Nitish Kumar wants to revive his political capital among the backward castes as his ally BJP is eating into it with its aggressive Hindutva politics. He is also wary of the fact that Lalu Prasad's son Tejashwi Yadav was taking a lead on this issue. Therefore, Nitish found it important to announce the caste census. 
Under pressure from the BJP, Nitish, who only has only 45 MLAs compared to BJP has 76, is counting on Lalu Prasad Yadav's Rashtriya Janata Dal (RJD). With RJD supporting Nitish on the issue of caste census, the BJP fears that Nitish might part ways with it—forcing it to accept the decision.  
Will it help Muslims of the state?
All India Majlis-E-Ittehadul Muslimeen (AIMIM) state president Akhtarul Iman, who was part of the all-party meeting on June 1, told TwoCircles.net that the census will help more Muslims to bring in the fold of caste and category-based government facilities. 
It will also help Muslim artisans, masons and other skilled Biradaris, he said
"BJP's claim of infiltrators is just a political tool. Why haven't they been able to do anything after being in power since 2005?" asked Imam, who is an MLA from Seemanchal's Amaur seat.
Why Bihar's only Muslim majority district Kishanganj is ailing behind on development indices?
"Seemanchal is the most deprived area of the state and it is so unfortunate that they are targeting this area," he added.
Sami Ahmad is a journalist based in Patna, Bihar. He tweets at @samipkb
SUPPORT TWOCIRCLES
HELP SUPPORT INDEPENDENT AND NON-PROFIT MEDIA. DONATE HERE