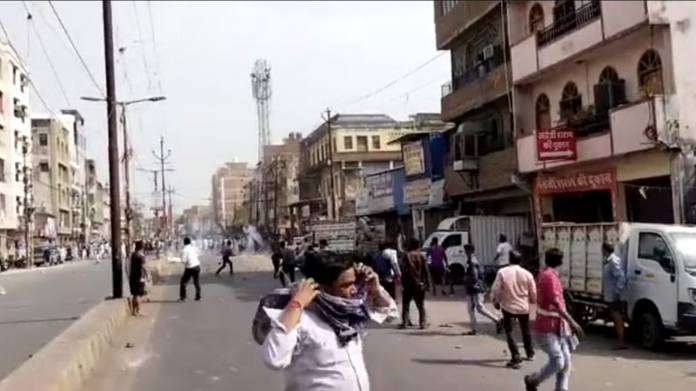 While no one in the violence-hit area denies that stone-pelting happened during the protest. However, there are claims and counterclaims with regard to instigation. 
TCN News
---
Support TwoCircles
---
KANPUR (UTTAR PRADESH) —  The Uttar Pradesh police have been accused of  targetting Muslims in Kanpur following violence that broke out on June 3 during a protest against offensive remarks made by two former members of the ruling Bharatiya Janata Party (BJP) leaders. 
How authentic is the allegation? Let's take a look at one of the three first information reports (FIRs) filed in connection with the brick batting, which took place at Nayi Sadak after Muslim devotees took out a march following Friday prayers on June 3. The clash broke out between Muslims and residents of Chandeshwar Hata (a locality inhabited by Dalits and OBCs, close to Parade Chowk).
The FIR filed by one Mukesh reveals the participation of Hindu residents of Hata in the violence, yet no action has been taken against them yet. The FIR also describes that the Hindu side hurled explosives in "self-defence".   
The cautiously worded FIR (No. 0043/2022) registered at Becon Ganj police station in Kanpur Nagar Police Commissionerate notes, "…when few people, fortunately, realised that Chandeshwar Hata would be eliminated today, 8-10 of them came forward and began throwing back the stones hurled at them so that the crowd hell-bent at massacre can be contained till the police force arrives at the spot. Had they not come to the fore, there would have been genocide of the Hindus."
It adds, "…as the news spread that Hata has come under attack, people from inside the colony came out with leftover firecrackers of Diwali and hurled it towards the crowd in self-defence to scare the rioters."
"Hata has been the target of Muslims," Mukesh said in the FIR, "And therefore, they (Muslims) are constructing six-storey buildings, surrounding Hata from all four sides so that it can be attacked with bombs from above and its existence can be removed."
Trying to defend the police, he said in the FIR that he was expecting that the cops stationed at Sadbhavna Chowki (police post) located near Parade Chowk would come to his rescue. "Though they (the policemen) came, yet could not make any impact perhaps because their number was not sufficient to control the unruly mob and they were not prepared to tackle the sudden attack," he said.
Notably, the rest two FIRs lodged on the complaints of police officials with regard to the violence that erupted from Baba Chauraha and Dadamiya Chauraha respectively do not find any mention of the "retaliatory" stone-pelting and hurling of explosives as revealed in the FIR filed by Mukesh.
The two FIRs claimed an unlawful assembly of Muslim youth which was forcibly asking people to shut their shops after Friday prayers and clashed with the police when they were asked to disperse.
There is also no mention of any alleged attack on Chandeshwar Hata either in the two FIRs.
Other side of the story
No one in the violence-hit area denies the fact that stone-pelting happened during the protest. But there are claims and counterclaims with regard to instigation. 
The Muslim side claimed after the Friday prayer, people in "small groups" moved from Dadamiya Chauraha and Baba Chauraha in the form of a procession, which reached Yatimkhana (orphanage) and took a turn towards Parade Chowk. 
"The protest march was completely peaceful till it reached Parade Chowk, though the police were intermittently trying to stop them. Violence erupted after the filming of the protesters by residents of Chandeshwar Hata was objected to by the other side. It led to a heated exchange between the two groups. As a result, stone-pelting began between the two sides. It continued for 10-15 minutes, and the situation was brought under control," eyewitnesses told TwoCircles.net.
But selective videos are being played on every TV news channel, they alleged as if only Muslims pelted stones and the other side was either acting as a mute spectator or garlanding the protesters. 
"Even the photographs of 40 suspected rioters released by the police belong to Muslims only. Except for a printing press owner, who published 20 posters calling people to undertake a 'jail bharo andolan' on June 5 against the alleged insult of Prophet Muhammad, all 50 people who have been arrested are Muslims," they said.  
Kanpur's Shaher Qazi Abdus Qudoos Hadi said there are always two sides in such incidents but the police were selectively targeting one community while the real perpetrators of violence are allowed to go scot-free.
"Police have taken action against one side while the other side that is equally responsible for the crime is being let off," he alleged.
To support his allegation, he presented a list of 36 people named in the FIRs. All of them belong to the Muslim community. "Why are members of other communities not arrested or FIR lodged against them," he asked.
Hadi and his son Waqar were manhandled when they were going to meet the Kanpur police commissioner who had reportedly called the cleric to pacify the protesters. The father-son duo can be seen being manhandled in a video accessed by this publication.
A video shows a Muslim boy being mercilessly thrashed by a Hindutva mob in presence of police. He was later rescued by the police who can be seen letting the assaulters go scot-free. 
Uzma Khanam, the wife of Hayat Zafar Hashmi, rubbished the allegation that her husband was the key conspirator of the violence. 
"He always offered Friday prayer at Sunehri mosque near Parade Chauraha. But on June 3, he went to a mosque at Dada Miyan Chauraha. After he came out of the mosque, he spoke to the media, appealing to people not to take out any procession. He returned home at around 1:30 pm after offering the prayer. He went to the Parade Chowk area at 3:30 pm after he got several calls from police officials who called him to come over there and help the administration to pacify the protesters. He came back home at around 6 pm to tell me that he is going again. He told me before leaving, 'If I don't return, take care of yourself and our daughter (who is 3 years old). I came to know about his arrest from the media only," she narrated and broke down.    
She claimed he had not given any call for agitation on Friday. "The proposed jail bharo agitation was called off a day before the violence following a meeting with the police administration. In fact, he had even announced the same on Facebook. Finding him a soft target, the police arrested him and declared him a mastermind. Selective leaks are being done to the media to create a narrative against him among people," she said.
Saiba's 10-year-old brother Salim has been arrested in connection with the violence. 
"My elder brother and husband were first picked up by the police and kept in lock-up at Colonelganj police station from 5 pm on June 3 till 1 am on June 4. They were released only after Salim surrendered. He told my mother who had gone to meet him that the police were pressuring him to confess the crime and tell the magistrate that he was 17. He has been brutally tortured in police custody," she alleged, showing Salim's Aadhar card, which proved that he was a minor.
She said Salim was not named in any FIR. 
Sana, mother of two claimed that her husband Mohd Nasir was at Bakarmandi, some 5 kilometres from the spot of violence but was arrested by the police. "The police had come to our house to arrest some of our relatives but failing to find them, police took my husband away and is one of the 36 accused named in the FIR," she said.
She said that one of her relatives had lodged a complaint against the BJP spokesperson for her blasphemous statement at the Colonelganj police station. "My husband has nothing to do with that complaint, still, he was arrested," she said.
Mohammad Sulaiman, an elderly activist who along with a delegation approached the commissioner of police to register a protest against "one-sided" police action, told TwoCircles.net, "No one is denying the fact that taking out a protest march was a mistake. It can also not be denied that brick-batting took place. But both sides indulged in this act of violence while the police are selectively targeting Muslims. There is no action against the other side, and it is casting aspersions on the integrity of the law enforcement agency, " he asked.
'It was a self-defence only'
Few residents of Chandeshwar Hata TwoCircles.net spoke to, reiterated that whatever they did was in "self-defence. 
Describing the incident, a resident of the colony, who refused to be named and photographed, said, "Hindus got agitated after their men and women were injured in the one-sided targeted stone-pelting. We somehow defended ourselves initially when the police deployment was not adequate. Once the police arrived, we too responded to them in their language. We had no other option but to do it in self-defence. Later, the police chased them away."
'Guilty won't be spared'
When TwoCircles.net discussed the allegations with Joint Commissioner of Police Anand Prakash Tiwari, he refuted the charges of any bias on the part of the police and said the investigation was on and guilty won't be spared. 
With regard to the FIR filed based on a complaint by Mukesh, he said, "If a person injured in violence lodged a complaint, how could the police refuse him? We are investigating the violence threadbare and anyone responsible would not be spared."
Asked about the alleged one-sided arrests, he said, "We have foolproof evidence against all the accused. Our action is based on the outcome of our investigation so far and the human intelligence and electronic evidence we have gathered. We are taking utmost care to ensure that no innocent is sent behind bars."
SUPPORT TWOCIRCLES
HELP SUPPORT INDEPENDENT AND NON-PROFIT MEDIA. DONATE HERE