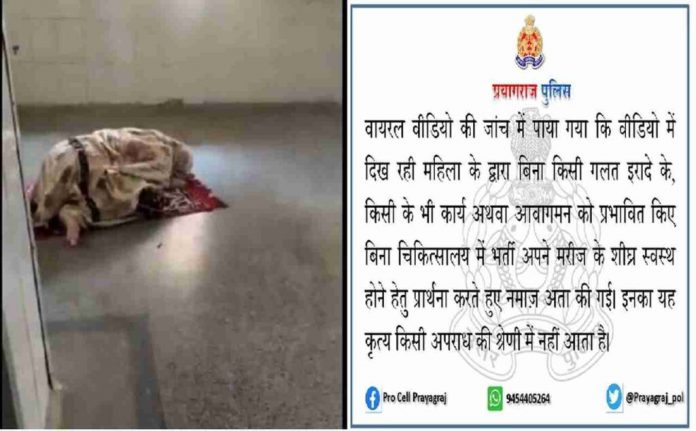 Amid controversy over a woman offering namaz Muslim prayer) inside a vacant room in a government hospital, Prayagraj police has clarified that offering namaz was not a criminal act and no proceedings will be initiated against the woman. 
TCN STAFF REPORTER 
---
Support TwoCircles
---
PRAYAGRAJ (UTTAR PRADESH): Attempts to create another controversy similar to the one created at Lulu Mall failed in Prayagraj Uttar Pradesh after police made it clear that offering 'namaz' was not a criminal act. Police denied having registered an FIR in connection with the viral video which showed a woman offering 'namaz' in a vacant room of a government hospital in response to some media reports claiming that a case has been registered and investigations have been initiated into the incident.
A video of some persons offering 'namaz' at Lulu Mall sparked protests by members of right-wing Hindu organisations in July following which Lucknow police lodged an FIR against eight persons seen in the footage on the complaint of the Mall's Public Relation Manager and arrested them. They were charged for unauthorisedly offering prayers at the mall along with IPC sections 153-A (1) (promoting enmity between groups), 295-A (deliberate and malicious acts, intended to outrage religious feelings of any group), and 505 (statements conducing to public mischief).
A similar attempt to create a controversy was made in Prayagraj where some persons shot a video of a middle-aged Muslim woman who was offering 'namaz' in a vacant room of Tej Bahadur Sapru (Beli) Hospital on Thursday.
The woman's relative who was suffering from dengue was admitted to the hospital for treatment. The woman offered 'namaz' outside the dengue ward during which some persons shot her video and posted it on social media.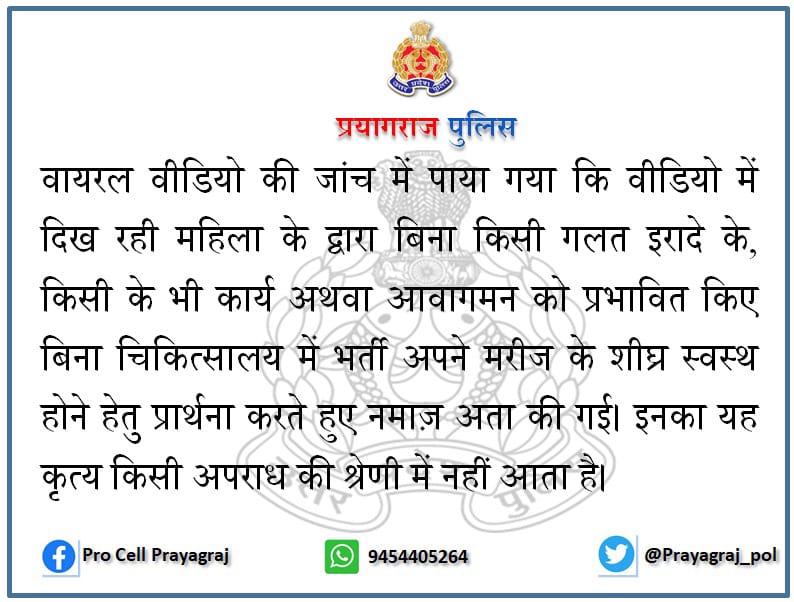 The viral video invited mixed reactions from internet users on social media platforms. Comment sections on the viral video posts were flooded with demands for action on offering prayers in a public place even as a section of social media users said that the woman was not doing any crime.
The issue escalated when a national channel tweeted the video footage claiming that Prayagraj police had lodged an FIR and had initiated investigations into the incident. In response, All India Majlis-e-Ittehadul Muslimeen (AIMIMI) chief Asaduddin Owaisi criticised the police for taking action. Owaisi in his tweet said that it seems Uttar Pradesh police has no other work.
However, putting an end to the issue Prayagraj police issued a press statement on Friday evening.
"Investigations were carried out in connection with the video footage revealing that the woman had no malicious intention behind offering 'namaz' inside the hospital premises. She was praying for a speedy recovery of her kin admitted to the hospital. The woman offered her prayers without disturbing any individual or causing disturbance to traffic. Her act does not violate any law and does not come under any category of crime," the statement said.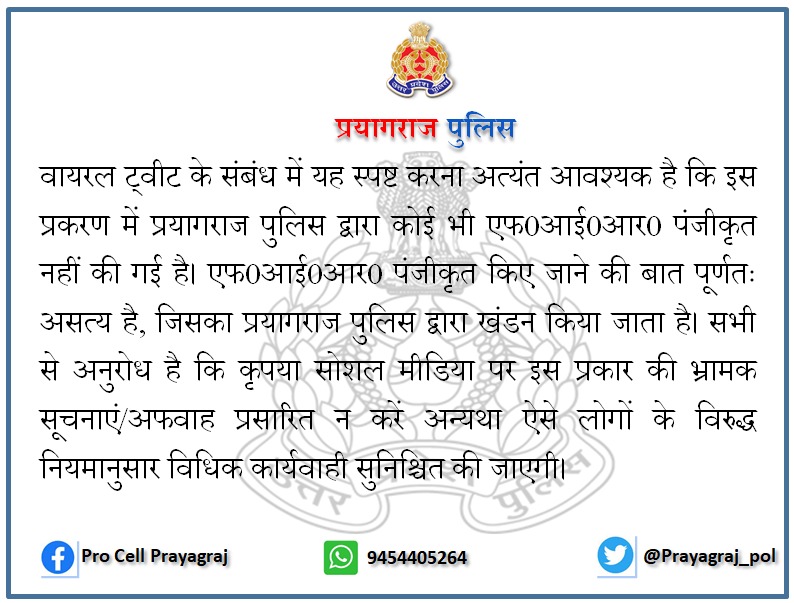 In another press statement, Prayagraj police clarified that no FIR has been registered in the incident. Police urged people to stay away from rumours and warned that strict action will be ensured against those involved in spreading rumours and false information, the statement added.
SUPPORT TWOCIRCLES
HELP SUPPORT INDEPENDENT AND NON-PROFIT MEDIA. DONATE HERE