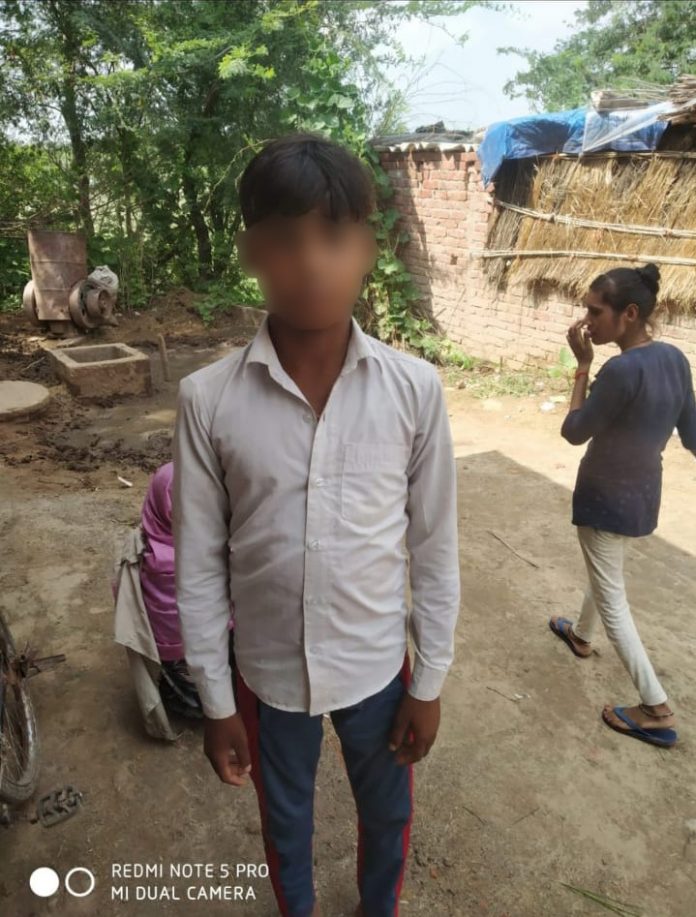 Aliza Noor | TwoCircles.net
Raju Kumar Dohre, a thirty-six years-old dalit man from Uttar Pradesh, found himself at a loss for words to talk about his child. "We didn't think such a thing would happen to our child in a safe space like school," Raju told Two Circles. His 15-year-old son, Nikhit Kumar Dohre succumbed to injuries 19 days after being brutally beaten by his teacher over a minor mistake.
---
Support TwoCircles
---
This incident of caste-based violence which took place in Auraiya district, has sparked outrage in the state. According to Raju, Nikhit, a class 10 student in Adarsh inter-college in Achalda area of Auraiya, had misspelled 'samaajik' in Hindi in a social science test supervised by his teacher Ashwini Singh.
"On 7 September, there was a test which Nikhil had studied for. He came back home bawling. He told us what the teacher did, there were marks of a stick on his back and the teacher had even pulled hair off of his head. He was punched, kicked, and beaten to a point that he fell unconscious in school," Raju said.
Raju is a laborer whose work involves working on bricks and mortar. He has two other sons, aged 8 and 3.
Meanwhile, Mahendra Pratap Singh, Deputy Superintendent of Police, Bidhuna in Auraiya said that "everything is under control" and that the "accused will be caught soon."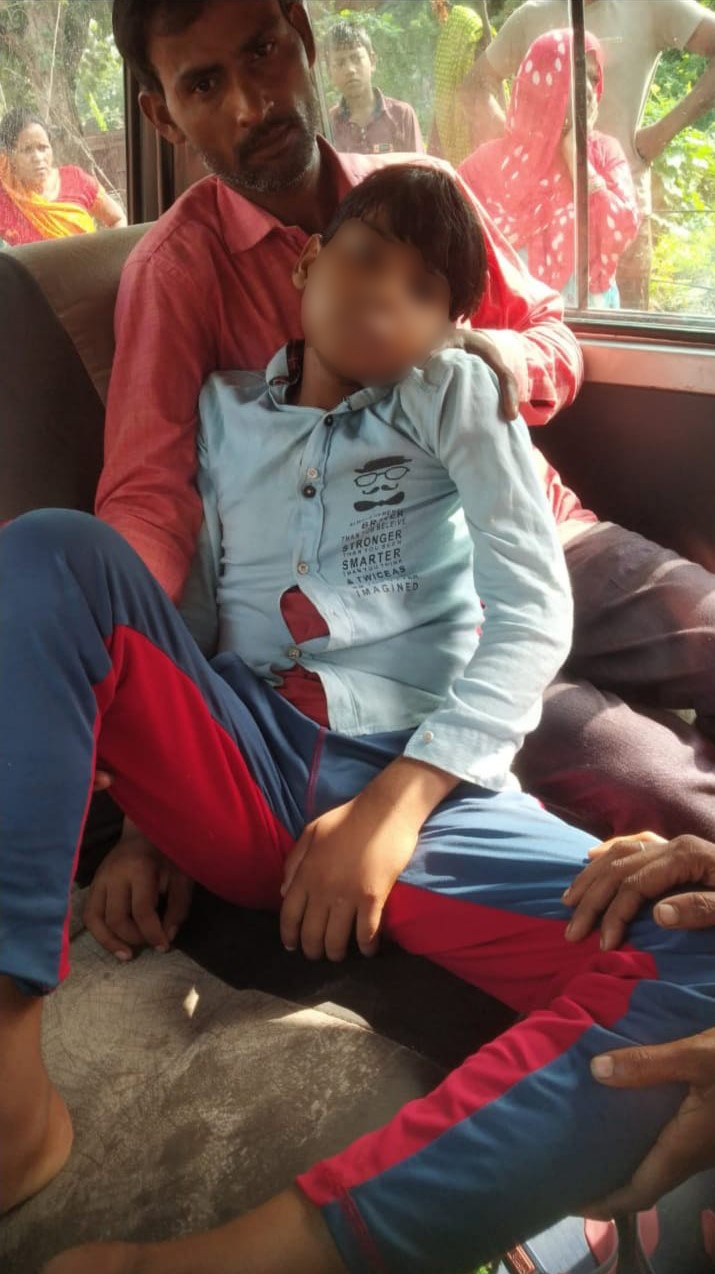 "Not Easy Filing FIR"
Raju pointed out that he had a hard time when he went to file the FIR against the teacher. "It was not easy filing the FIR, when we went to the police station, the official refused to take the complaint saying it had faults. Then we tried again but to no avail. I had to call up the control room and go back and forth a couple of times before they agreed to file the FIR," alleged Raju.
Filed on the 24 September at Achalda police station, the FIR is filed against Ashwini Singh under IPC sections 308 (Attempt to commit culpable homicide), 323 (Punishment for voluntarily causing hurt), 504 (Intentional insult with intent to provoke breach of the peace) and the SC/ST Act.
Nikhit's death led to popular outrage and protest by local residents who allegedly burnt cars. The Deputy SP Mahendra Pratap Singh said that "The locals did protest and burned cars belonging to officials. The police arrested nine people today."
Two Circles have a copy of the FIR. Filed against unknown persons, this one also includes the father of the deceased.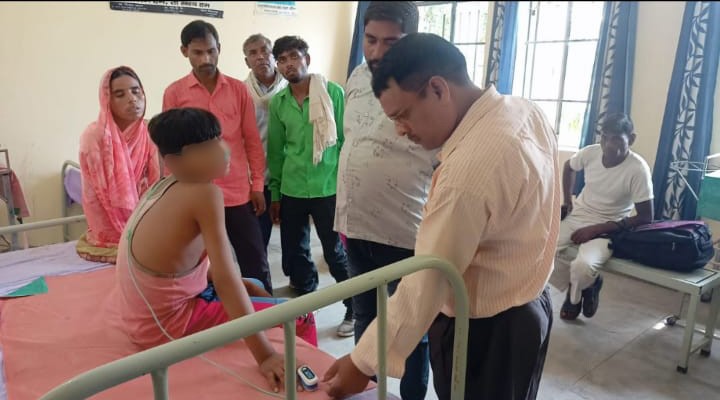 'My Wife Won't Stop Crying'
Raju said, "My wife is shaken. She won't stop crying, she has not spoken much since Nikhit died." Raju alleged that when he had encountered Singh, the accused teacher, after the incident, he was met with casteist and discriminatory remarks.
Singh gave them Rs 10,000 initially, and then Rs 30,000 for the medical treatment. "After some days, Singh stopped taking my calls and disappeared on me." Raju had taken Nikhit for treatment in Lucknow and Etawah.
Ever since Nikhit's death and the subsequent protests, Raju claimed that police tried to "rush them" into burying Nikhit's body. The district administration offered him Rs 5 Lakh as compensation, but he asked for Rs 50 Lakh to take care of the whole family and the medical expenses. Also, he wants the government to give him a secure job instead.
"My son is gone, you can't bring him back, but you can give him justice," Raju concluded as he choked, remembering Nikhit.
Several Cases of Atrocities Against Dalits in UP
The atrocity on Nikhit comes days after a young Dalit girl was kept out of her classes as the teacher refused to teach her because of her caste in a government school in Gonda district. Two minor Dalit girls were found hanging from a tree in Lakhimpur Kheri who were raped and murdered. At least six men were arrested.
Cases of atrocities against the Scheduled Castes (SCs) have increased nationally by 1.2% in 2021, with Uttar Pradesh reporting the highest number of cases of atrocities at 25.82% as per the latest NCRB report.
"Caste-based discrimination has been normalized"
Prashant Kanojia, head of the SC/ST wing the Rashtriya Lok Dal, said that in "majority of the cases where a Dalit child is beaten or raped, unless and until it is blown out of proportion in the media, the police rarely file the complaint in the first attempt." He added, "You can get a fake case filed at the first instance with urgency, but not a genuine case if the victim is Dalit or Muslim."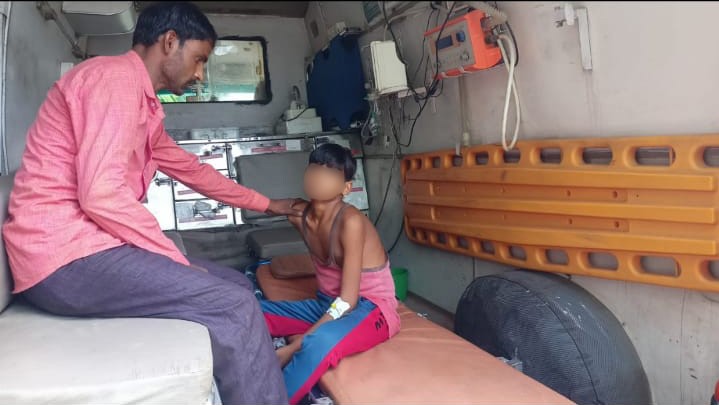 This is a pattern in the UP, he alleged that has been consistent even before the current ruling party took to power as it remains to be more of a "structural" issue that is yet to change.
Being a Dalit himself and having faced discrimination by teachers in school, Kanojia stated that such incidents gravely impact the psychology of Dalit children.
"A Dalit kid becomes very conscious of his/her identity and people's behavior towards her. Inferiority complex amplifies, and this happens for all children who are being oppressed based on their identity, whether Dalit, Muslims, or STs," he noted. Caste-based discrimination has been normalized, he alleged.
Meanwhile, more political leaders have condemned the incident, asking for accountability from the government. Members of Bhim Army had also reached the ground on 26 September, the police alleged that they were among those who resorted to stone-pelting and arson.
Bahujan Samajwadi Party chief Mayawati wrote that there is government apathy and negligence in the case and people are angry "due to lack of justice and proper action."
Condemning the incident, Samajwadi Party leader Akhilesh Yadav tweeted that the government should provide compensation for the victim's life, adding "Education gives you life, it doesn't take it away."
(Aliza Noor is an independent journalist from Lucknow, Uttar Pradesh. She mostly covers social justice, communities, and gender).
SUPPORT TWOCIRCLES
HELP SUPPORT INDEPENDENT AND NON-PROFIT MEDIA. DONATE HERE