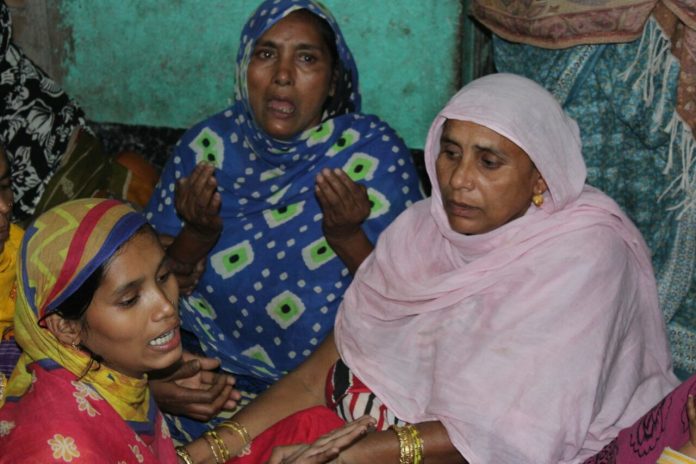 By Mazhar Farooqui
In the end, justice will prevail.
Nobody is above the law.
Have faith in the judiciary.
---
Support TwoCircles
---
All these oft-repeated phrases sound good but the fact is that in India the possibility of a Muslim victim of Hindutva terror getting justice is as minuscule as the eye of a needle.
You are living in a fool's paradise if you believe Shambhulal will be punished for hacking an innocent Muslim man to death and burning his body in the name of love jihad.
For all you know, he could soon be an MLA or some such thing.
It doesn't take rocket science to predict the outcome of Afrazul's bone-chilling murder.
All you need to do is look at the outcome of some recent and past cases.
Whether it's Akhlaq (Dadri), Pehlu Khan (Alwar), Imran (Aligarh), Imtiyaz (Jharkhand) Umar Khan (Alwar) or 16-year-old Junaid (train lynching (Ballabhgarh) in each instance the killers were let off despite clinching evidence such as dying statements.
In Pune, a 24-year old techie Mohsin Shaikh was lynched to death when he was returning from a mosque. The people behind the ghastly murder were arrested and produced before the High Court. And what did the 'Honorable' High Court do? It set free all key suspects, saying that it was not them but Mohsin who was at fault as he had provoked the murderers by sporting a beard and wearing a skull cap. Phew!
But then justice has always remained an alien concept for Indian Muslims.
In 1987, as many as 42 Muslim youths including children were dragged out of their homes by the PAC in the dead of night, bundled in a truck and shot dead. Their bullet-riddled bodies were dumped into a canal. The Maliana Massacre or Hashimpura Horror as the case is known as went on for over 20 years. Eventually, all policemen accused of the cold-blooded murders were acquitted.
From Muzzafarnagar to Moradabad and Bhagalpur to Bombay, thousands of Muslims have lost their lives and properties in communal riots. Forget about justice, many still haven't got any compensation. On the odd instance when they did get some justice, the government stepped in to ensure rapists and murderers remained scot-free.
A case in point is that of the 2002 Gujarat riots.
India's highest court convicted BJP minister Maya Kodnani and Bajrang Dal leader to life imprisonment for the Naroda Patiya massacre in which nearly 100 Muslims including women and kids were killed. In fact, the Supreme Court ruled that they should remain in jail until their death. But any hope of the victims getting justice was dashed when government got both Bajrangi and Maya Kodnani released on bail. The convicts are now living normal lives like you and me.
The people behind fake encounters fared even better.
Cops like DG Vanzara, PP Pandey and Abhay Chudasama who were arrested and faced kidnap and murder charges for a string of extra-judicial killings (Ishrat Jehan, Sohrabuddin, Kauser Bi, Sadiq Jamal, Amjad Shaikh, Tulsi Prajapati to name a few) were not just discharged but in some cases even handsomely rewarded with plum promotions.
Amit Shah, the main accused of all these murders, went on to become the BJP President and is now the second most powerful man in India after Narendra Modi.
It's not that Muslims have never got justice in India. Three recent beneficiaries (if you can call them that) are Nisar, Mohammad Aamir and Mohammad Ajmeri. They were acquitted by the courts but not before spending 50 years between them in various jails for terror charges they were not even remotely associated with.
"Main Ek Zinda laash hoon" (I am a living corpse) is how Nisar described his life after getting out of jail. Three innocent men spent the equivalent of half a century behind bars.
And did anything happen to the cops who framed them? No Sir, nothing.
The only time anything happened to a cop or judge (remember Loya?) was when Anti Terrorist Squad Chief Hemant Karkare busted a major Hindu terror cell responsible for the Mecca Masjid attack, Samjhauta Express, Ajmer and Malegaon blasts. Following his investigations, Lt Col Purohit, RSS activist Swami Aseemanand and Sadhvi Pragya Thakur were arrested.
Aseemanand even went on to say that he carried out the terror attacks at the behest of RSS chief Mohan Bhagwat. Anywhere in the world, his damning testimony would have been enough to launch at least an investigation against Bhagwat.
But not in India.
As it turned out, one by one Aseemanand, Pragya Thakur and Col Purohit were released and the charges against them were dropped.
RSS functionary Sunil Joshi who had fallen out of Pragya and had threatened to expose her role in the blast was mysteriously killed as was Hemant Karkare. There's even a book called 'Who Killed Hemant Karkare?' And mind you, it's not written by a Chetan Bhagat but an ex IGP. Anyone who dared to spill the beans or fell foul with the powers-that-be died mysteriously. The same fate befell BJP home minister Haren Pandya and, later, special CBI judge Loya hearing a trial about Amit Shah's role in fake encounters.
At the height of the Ram Janam Bhoomi movement, some two dozen policemen stormed our Muslim-dominated neighbourhood in Lucknow around 6 am to arrest a man suspected of rioting and arson.
Faced with resistance, the cops, including PAC personnel, clambered on the top floor of a nearby school building and then, shouting Jai Shri Ram, opened unprovoked fire at the homes below. Within minutes, four were dead and many injured. All men died in their homes. One of them was a friend who had got married weeks before.
His brain was blown to smithereens by a .303 bullet as he stumbled out of bed, half asleep and opened his bedroom window to look out.
When the guns fell silent, the cops broke into several homes and rounded any young man they could get their hands on. Shaukat, the blind muezzin of our mosque was dragged out on the street and shot in the palm of his hand by a service revolver in full public view.
Media reports on the following day said he was injured after a crude bomb exploded in his hand. A blind man throwing bombs? I found it funny even under those critical circumstances.
The police also gate crashed into my uncle's house, a mere 200 meters from my own place and whisked away two of my cousins to the Aminabad police station where they were beaten mercilessly all day and forced to chant Jai Shri Raam.
"Katve, yeh lo Javed Miandad Ka chakka," the cops jeered as they rained lathi blows on my cousins, who had been arrested on suspicion of rioting because they were dressed in shalwar kameez. Another young cousin, who lived in the same house was spared because he was wearing a pullover over a pair of jeans.
Later that evening, some us visited the police station carrying warm clothes and blankets for our cousins who were still in illegal custody and shivering in cold.
As we handed over the blankets, a police inspector sized us up and asked: "Saaley Katve, bhainsa khaatey ho, phir bhi sardi lag rahi hai?"
I was not at home when the police firing started that morning. My Dad and I had gone to the nearby Charbagh Railway station to pick my uncle and cousin who were coming back from Delhi. And since there were no cell phones during that time we remained blissfully unaware of the carnage until we drove back towards our home.
We had no clue even when a posse of policemen who had set up a barricade in the middle of the LaTouche road stopped us and asked us to step out.
As we revealed our names, the policemen started raining lathi blows on the four of us.
We were all well dressed, and by no accounts, looked criminals. My dad showed them railway tickets saying we had merely gone to pick our relatives. But the explanation cut no ice. The beat us mercilessly. One enthusiastic cop, even cocked a gun at us. Luckily he didn't pull the trigger. For days my cousins remained locked up in a dingy cell where the cops took turns to thrash them.
Now contrast this with the punishment meted out to the then UP chief minister Kalyan Singh who reneged on a Supreme Court to protect the Babri Masjid and under whose watch the building was demolished. For a crime that sparked nationwide riots, Singh was given a token imprisonment of just one day and that too in a plush state guest house.
He is now a Governor and enjoys immunity till he is in office. So all you Indian Muslims out there, get this straight. You are a child of a lesser God. "Sarv Dharam Sambhav and secularism are just myths.
For you getting justice is like catching quicksilver with bare fingers.
Nobody knows better than the families of Afzal Guru and Yaqub Menon. The former was hanged to death — by the court's own admission — to 'satisfy the collective conscience of society' while the latter was given capital punishment for a crime he didn't commit.
The author is a Dubai-based journalist.
SUPPORT TWOCIRCLES
HELP SUPPORT INDEPENDENT AND NON-PROFIT MEDIA. DONATE HERE