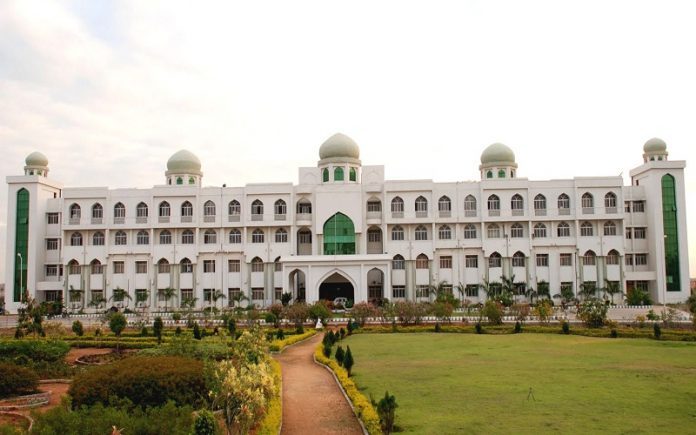 By Raqib Hameed Naik, TwoCircles.net
Hyderabad: The Maulana Azad National Urdu University (MANUU), Residential Coaching Academy established by the University Grants Commission (UGC) in 2009 seems to have run into rough weather, with the grants aid to the residential academies yet to be approved.
---
Support TwoCircles
---
The MANUU Civil Service Examination-Residential Coaching Academy (CSE-RCA) had submitted a detailed budget proposal of  Rs 1.33 crore to the UGC for providing coaching to the civil services aspirants during 2018-2019 session out of which only Rs 21 lakh has been allocated for hiring resource persons and the rest for paying salaries of permanent staff and other activities. Usually, the approvals are given by March 31st every year, but till this report was filed, MANNU had not received the approval.
In a conversation with TwoCircles.net, Professor Amirullah Khan, Director MANUU RCA said that the UGC was still looking into the matter. "Actually, people are speculating that we may close the academy as March 31 has passed and we haven't yet received the extension," Professor Amirullah Khan told TwoCircles.net.  "It is true that the extension should have become by now but in HRD many things are running late. We are expecting that they will give clarification by the end of this month but I can't confirm that they will give the extension. Maybe they will close some centers and give an extension to others. They are reviewing the centers," he added.
According to an RTI reply by UGC to this reporter, the commission in 2018 continued this scheme for one more year in four out of five residential coaching academies and closed down the RCA at Babasaheb Bhimrao Ambedkar University.
"At present, the scheme has been continued for a further period of one year i.e. 2077-18 (31.03.2018) in four universities i.e. AMU, MANUU JMI & Jamia Hamdard expect BBAU. Further, UGC has allocated & released the fund for the year 2017-2018 to two universities," read the RTI reply.
Khan had told TwoCircles.net in November 2017 that a budget of more than Rs 1 crore was approved for hiring faculty during the 2017-2018 session, but this year UGC seems unclear either to give an extension to the academy or not.
The students have also expressed unhappiness with the MANUU RCA management for not providing them with the expert faculty despite having a grant of Rs 1 crore for the 2017-2018 session.
According to the budget proposal for 2018-2019 submitted to the UGC, out of total of Rs 1.33 crore, Rs 42 lakh was allocated for paying salaries to one director, 2 Assistant professors, one LDC and one research assistant.
A further Rs 18 lakh for organising conferences, Rs 2.4 lakh for workshops, Rs 9.6 lakh for special lectures by academicians, Rs 1.4 lakh for stationary, Rs 20 lakh for infrastructure have been allocated, but worryingly only Rs 21 lakh has been allocated for hiring resource persons. Also, an amount of Rs 3.6 lakh was earmarked for organizing advisory committee meetings and Rs 1 lakh for UGC team visit.
The students are surprised as to why the major portion of funds is directed towards activities which are not helping the civil services aspirants in any way.
"The funds at the discretion of RCA should have been used for hiring resource person but was diverted towards unnecessary expenses like conferences and workshops," RCA student who wished to stay anonymous told TwoCircles.net.
"The money being spent on the staff isn't either helping the students as they don't take classes and things did change at the end of last year but except the director, the other staff isn't up to the mark," the student added.
The students further said that the academy won't be able to deliver the result unless a major part of funds is allocated for hiring the expert faculty.
In 2009-2010 during the United Progressive Alliance (UPA) regime in an attempt to aid minorities, Scheduled Castes, Scheduled Tribes and women write various competitive examinations, the University Grants Commission (UGC) established five Residential Coaching Academies (RCAs) in five universities across India to provide coaching to the aspirants with residential facilities.
One of the academies and the only one in South India was established at the Maulana Azad National Urdu University (MANUU), Hyderabad. The university has received a grant of Rs 8.45 crore from the UGC since 2010 and spent an additional Rs 58 lakh to establish the same.
However, an RTI filed by this reporter in November 2017 revealed that the MANUU  RCA which is providing coaching to students since 2010, has not helped even one student qualify the UPSC exam and less than 15 students have been able to clear any competitive exam.
It must also be pointed out that the condition of the RCA in Aligarh is not much better, as we showed in our story in July last year.
SUPPORT TWOCIRCLES
HELP SUPPORT INDEPENDENT AND NON-PROFIT MEDIA. DONATE HERE