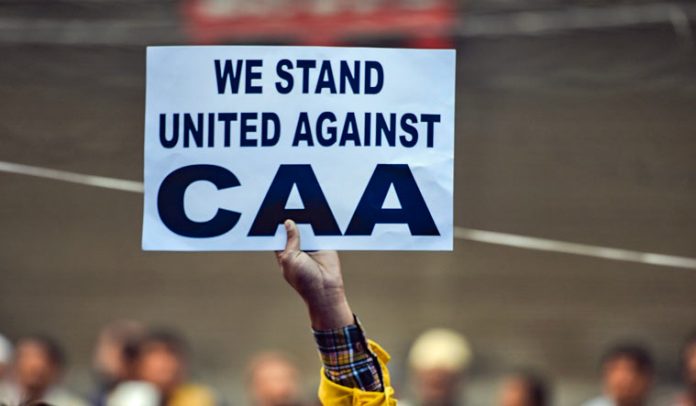 TCN News
Indian diaspora in USA's Chicago has recently come out on streets to show support to Indian Muslims over the passage of Citizenship Amendment Act (CAA) that was passed in the Parliament in December 2019.
---
Support TwoCircles
---
The US which has already been witnessing #BlackLivesMatter movement over the murder of George Floyd, saw Indians marching on the streets of Chicago against the CAA, resonating that it "discriminates against the religious minority group."
Other supporting groups that are protesting are Indian American Muslim Council, Council of Islamic Organizations of Greater Chicago, Northwestern University's South Asia Solidarity Group, University of Chicago as well as other human rights activists and local student groups.
Bodhi Vani, a student at the University of Chicago, said that it was important for Indians in Chicago to voice their protests against such oppressive measures. She discussed that Indians in the US had also taken out a rally against CAA at the Indian consulate on January 26, adding that due to COVID-19 lockdown, the momentum that was slowed down has been picked up again due to the efforts of human rights groups that organized this campaign.
The organizers have said that while the country fights against racial discrimination it must also join the fight against all kinds of discrimination and the CAA in India is nothing but "the ruling BJP – Modi's Hindu nationalist party, acting on its anti-Muslim agenda."
Anuranjan Sethi from the Northwestern University's South Asia Solidarity Group expressed that it was not just a conflict between Hindus and Muslims but about "fighting against a certain kind of a government and its arrogance in pushing its prejudices on to the public." Hence, it added, "it is important to condemn the discrimination itself and also to speak categorically against discriminatory laws." He further said that it is significant that the Indian student community must show active pursuit of anti-discrimination laws as "they mirrored the diversity of opinions in their home country."
According to the 2010 United States Census, there are more than 242,000 South Asian Americans in Chicago, with Indian Americans making up the largest subgroup of Asian Americans in Illinois. Junaid Ahmed, President of the Chicago branch of Indian American Muslim Council, who has been a resident of the US since he was 13 years old, lauded the amiable relations between Indian Hindu and Muslim communities in the US. He said that many Hindus in Chicago had come out in solidarity with the Muslims.
Ahmed added that "the religious schism started five or six years ago," and although many non-Indian organizations joined the protest, some groups used it to sow anti-Muslim sentiments.
Bodhi Vani, the student protestor said that "it is important to spread awareness about the developments in India," because "the world is not reacting with appropriate condemnation to what is happening in India." She added that the only way one can change the discrimination that is happening in India "is by disseminating information."
SUPPORT TWOCIRCLES
HELP SUPPORT INDEPENDENT AND NON-PROFIT MEDIA. DONATE HERE