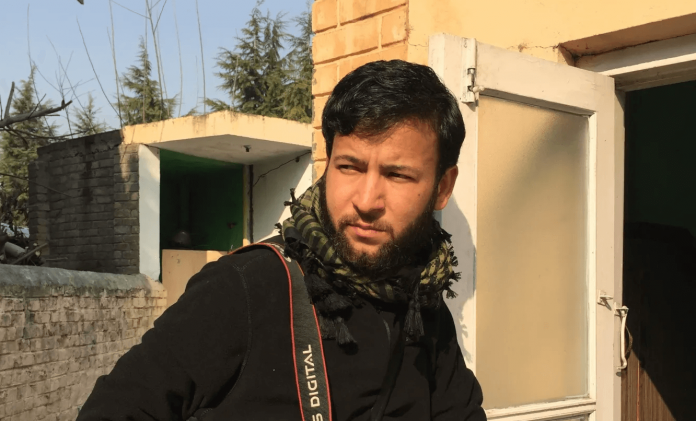 Twenty-six-year old Sajjad Ahmad Dar alias Sajad Gul, a trainee reporter with a local web portal The Kashmir Walla, was arrested by the Army on January 7. He was booked under the stringent Public Safety Act (PSA) a day after a local court had granted him bail in the earlier case. Leading journalist bodies—including from Kashmir—have condemned his arrest and demanded his release.
Auqib Javeed | TwoCircles.net 
---
Support TwoCircles
---
SRINAGAR — The family of Kashmir based journalist Sajad Gul are in a state of shock and trauma after he was booked under the stringent Public Safety Act (PSA)—a preventive law that allows the detention of any individual for up to two years without commission of a crime—a day after he was granted bail in a case under which he was currently in detention.  
Twenty-six-year old Sajjad Ahmad Dar alias Sajad Gul, a trainee reporter with a local web portal The Kashmir Walla, was arrested by the Army on January 7, a family member told TwoCircles.net. 
He was later handed over to a local police station in the Hajin area of North Kashmir's Bandipora district. 
Gul lives in Shahgund village of Hajin. He is pursuing Convergent Journalism at Central University, Kashmir.
According to police, Gul was arrested for allegedly provoking people to "resort to violence and disturb public peace".
He was arrested days after he posted a video of family members and relatives of a slain militant protesting his killing in a gunfight in Srinagar. 
A police spokesman, in a statement, said that Sajad Gul "uploaded the objectionable videos with anti-national slogans raised by some women folk on the day when most wanted terrorist Saleem Parray was eliminated in Shalimar Srinagar". 
"…the said person under the garb of journalist [sic] is habitual of spreading disinformation/false narratives through different social media platforms in order to create ill will against the government by provoking general masses to resort to violence and disturb public peace and tranquillity," the statement added.
"Moreover, his overall activities are prejudicial to the sovereignty, integrity and unity of India. Accordingly, a case has been registered against him in which he has been arrested and presently is on Police remand," they said. 
As per police, during the encroachment drive carried out by Revenue Department last year in Sajad's native village, "He instigated the locals against the said lawful drive as a result of which the officials were restrained in discharging their legitimate official duties".
A case FIR No. 12/2021 U/S 147, 447, 336, 353/IPC was registered against him and after producing the charge-sheet the case is subjudice in the court of JMIC Sumbal. 
Gul was granted bail before being booked in another case
Gul was granted bail in the above mentioned case by the court on January 15. After receiving the bail copy, the police, however, didn't release him and booked him in another case, including under the charge of 'attempt to murder.' 
The FIR under section 153B, 147, 148, 149, 307 Indian Penal Code was filed against him. On January 16, Gul was booked under Public Safety Act (PSA) and was subsequently shifted to Kot Bhalwal jail in Jammu. 
"Booking him under PSA is too harsh (a punishment). He was just a student," Javid Ahmad Dar, Gul's brother told TwoCircles.net. 
Javid Dar further said that there were many ways that his brother (Sajad) could have counselled "if he had done anything wrong but booking him under this law will destroy his career." 
"But he hasn't done anything wrong. They (Police) should tell him to do what they want," Dar added. 
Dar's mother Gulshana Begum is restless ever since her son was arrested by the Army. She doesn't know anything about what Gul does and what he is studying. All she wants is to see her son back home. 
"We haven't informed her that he has been booked under PSA and shifted to Jammu," Dar said.
Umair Ronga, the counsel for Gul told The Kashmir Walla, "When the orders of release reached the police station Hajin, the family members were made to wait for a few hours, to be informed that the journalist would not be released on the pretext that one more FIR has been registered against him, apparently to thwart the orders of Court."
Ronga said that in terms of the law the police could have added offences during the course of an investigation if attracted. "However, the registration of a second FIR defeats the mandate of law," he said, and added, "There was no mention of another case registered against him till yesterday. The matter will be brought before a Court of Law and justice will be done."
Gul is the second Kashmiri journalist booked under a stringent law and is currently in jail. An award-winning journalist Asif Sultan continues to remain incarcerated since 2018.
Journalist bodies in Kashmir have said Gul's arrest is part of the continued harassment and intimidation of journalists in the region. India ranks 142 of 180 countries in the Press Freedom Index compiled by the France-based Reporters Without Borders.
Journalist Federation of Kashmir condemns the Public Safety Act against Journalist Sajad Gul

A day after the court granted him bail in the case over the alleged social media activity, the government on Sunday booked independent journalist & a student of journalism…

1/6 pic.twitter.com/HzuV349Wta

— Journalist Federation of Kashmir (@pressfreedomJFK) January 17, 2022
Various international press rights groups including the Committee to Protect Journalists (CPJ) have condemned the detention of Gul and urged authorities to immediately drop the charges. 
CPJ said it is deeply disturbed by reports that a Kashmiri journalist was arrested days after posting a video of a protest on social media. 
"Authorities must immediately release Gul and drop their investigations related to his journalistic work," CPJ said in a statement. 
Auqib Javeed is a journalist based in Kashmir. He tweets at @Auqib Javeed.
SUPPORT TWOCIRCLES
HELP SUPPORT INDEPENDENT AND NON-PROFIT MEDIA. DONATE HERE