Kanchan Sharma, a retired lecturer, has been running a school for the slum children for over a decade now. 
Mubashir Naik and Irshad Hussain | TwoCircles.net
JAMMU — Kanchan Sharma, 62-year-old retired lecturer, has earned the nickname of "super teacher" for uplifting underprivileged slum children through education in Maratha Nagar town of Jammu. 
Talking to TwoCircles.net, Sharma, who has worked in the education sector for over three decades, said that seeing slum children chewing tobacco and begging on the streets moved her. "I wanted to improve their condition through education," she said. 
In 2009, she started Sangarh Vidya Kendra, a school for primary students from underprivileged communities. 
It was while passing through the slum area of Maratha Basti, near Jammu Railway station, that Sharma got the idea of starting a school for slum children. She said she broke down after seeing the deplorable conditions of slum children. 
"I started to raise awareness about their education and motivated them to join the school classes. In the first phase, 40 students enrolled themselves in the school. It was a pleasing moment for me," she said. 
During her posting at Gandhi Nagar High School, Jammu as a lecturer, several children from these slum areas came to her to get enrolled. 
"I was delighted to see them and asked whether other children want to join a school and get an education," she said. 
However, when Sharma was transferred from the girls high school Gandhinagar, to Miran Sahib, R.S Pora Jammu in 2004, 40 children dropped out. It was then that she decided to open a makeshift school at Maratha Basti to provide free of cost education to the slum children.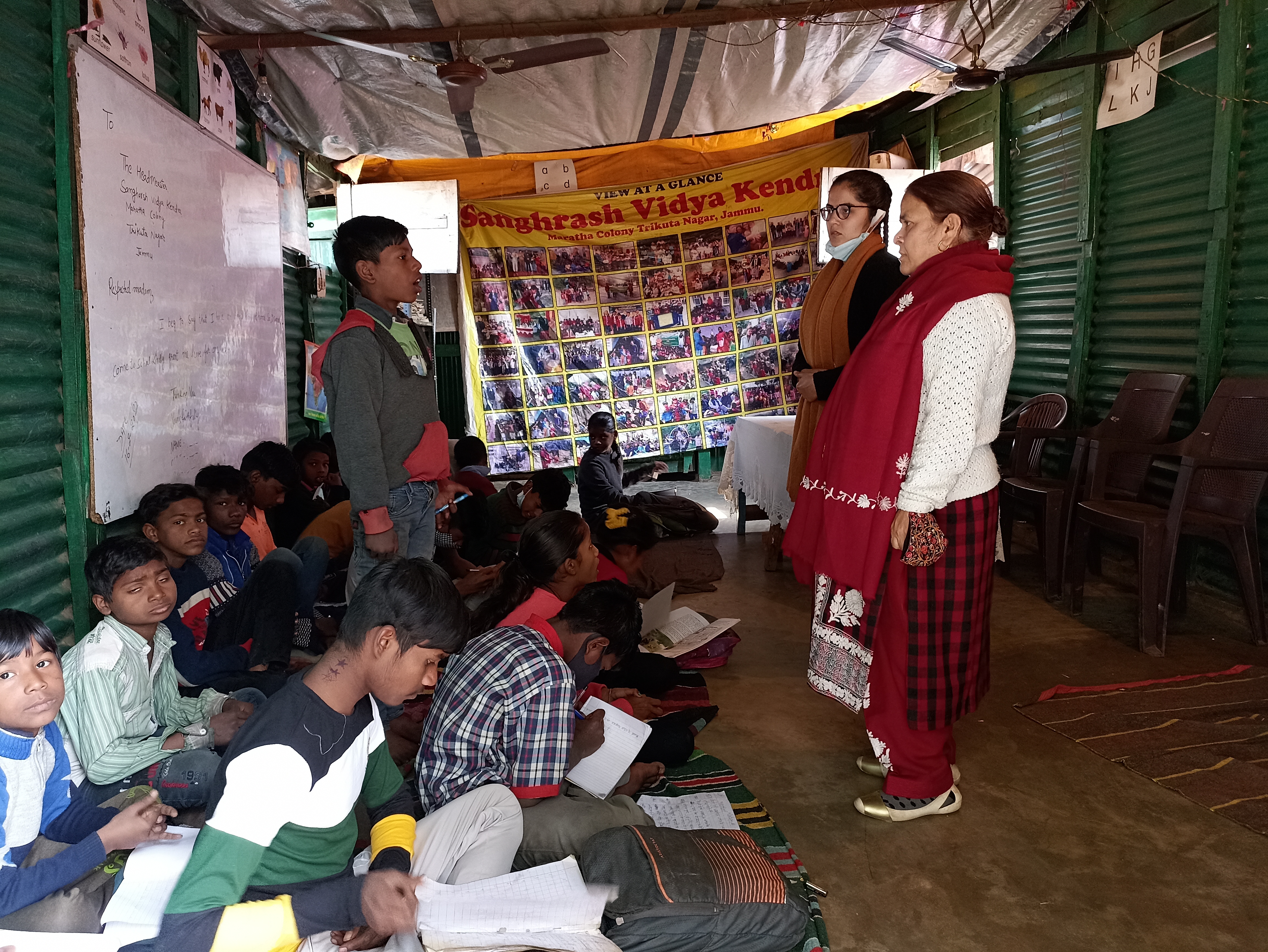 Presently, there are around 110 slum children enrolled in her makeshift tin-roofed school made with plastic sheets and wooden walls.
Sharma said that she feels happy that many of her students have now got government jobs. 
A daring challenge
It was an uphill task for Sharma to motivate parents of slum children to get enrolled in her makeshift primary school.
"I told them that nothing will be charged and it will be free. They will be getting free education and books, etc. The challenge to motivate these children and educate them not to indulge in the dirty habits of smoking, chewing tobacco etc., was not an easy task to handle," she said, and added, "But I thank God that we have been successful to the extent of changing their habits."
Although some students started begging again, Sharma didn't lose hope and visited their parents to motivate them not to ruin their future for a few pennies. 
Schooling during Covid-19 pandemic
The poverty-stricken parents of these slum children could not afford to purchase smartphones for their children to avail online education during the Covid-19 pandemic. "Some children were missing the online classes and had started begging again," Sharma said. 
Sharma arranged a few smartphones to run online classes for them.
During the lockdown, Sharma decided to organize a two-hour open class once a week to keep the students focused on their studies.
"Madam is a messiah for our children. Before opening this school, our children were involved in rag picking or begging. We are glad and feel lucky that someone has come forward to look after our children also," Pawan Kumar, who has lived in the slum for the last 40 years, told TwoCircles.net. 
During the lockdown, Sharma taught with two other female teachers. She manages the expenses for the books, notebooks, pens, pencils, and bags for these children. 
Samuel, a 7th standard student at Sharma's school told TwoCircles.net that he was thankful to madam for changing his life.
"I was begging in the streets and carrying loads of 'Kawad' (rags) on my back. Chewing tobacco and roaming on the dirty heaps for picking up rags. I consider myself the most fortunate kid of the time to see a bag on my back, instead of 'kawad' (rags)," Samuel said. 
At present, there are more than 100 students enrolled at the school. The number of students changes from time to time, as the migrant labourers keep moving in search of livelihood. 
Sharma said she has always been adamant to keep the parents of the slum children motivated for education. "The mothers are very fond of seeing their children getting an education," she said. 
The school for slum children does not have support from the government or any NGO. Sharma said she has managed to run the school from her expenses so far. 
"In September 2021, our project was selected for an award, which monitors slum children and their education throughout India. Through this project, these slum children will get financially benefited," said.
Sharma has won accolades for her work. In 2009, she was conferred an award by the Red Cross Society. In the same year, the Jammu and Kashmir government gave her a state on the eve of Abdul Kalam Azad's birthday. 
On the occasion of International Women's Day 2022 today, Sharma has been awarded "Women of Steel" award for her work by Gujjar Charitable Trust in Jammu. 
Mubashir Naik and Irshad Hussain are Kashmir based independent journalists. They tweet at @sule_khaak and @Irshad55hussain.