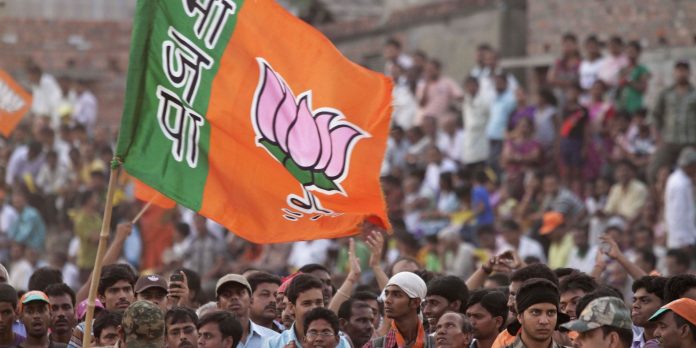 By Brajendra Nath Singh
New Delhi, (IANS) : The BJP is facing a major rebellion in more than a dozen constituencies in Uttar Pradesh over the distribution of tickets to outsiders and children of party leaders, with the crucial assembly elections to begin in over a fortnight.
---
Support TwoCircles
---
From Lucknow to Bijnor and Meerut to Noida, the party is struggling with infighting, informed sources in the Bharatiya Janata Party told IANS.
But state BJP chief Keshav Prasad Maurya told IANS that the ticket distribution has been done keeping in view the "winnability" of candidates.
He dismissed the infighting, saying: "There is democracy in the party and everyone is allowed to put forward his or her apprehensions."
Out of the state's 403 assembly constituencies, the BJP has so far announced candidates for 371. Over 80 of these candidates are turncoats from either the Bahujan Samaj Party, Congress or Samajwadi Party.
In over one-and-half dozen assembly constituencies, the party has also sidelined local contenders to give tickets to relatives of its leaders.
In Lucknow, the erstwhile Lok Sabha constituency of former Prime Minister Atal Bihari Vajpayee, the BJP has fielded several "outsiders" angering contenders within.
Former UP Congress chief Rita Bahuguna Joshi, who joined the BJP a few months ago, has been fielded from Lucknow Cantonment.
Joshi is facing tough rebellion from former BJP legislator Suresh Tiwari. The former Congress leader defeated Tiwari in the 2012 assembly elections with a margin of above 20,000 votes.
Former BSP leader Brajesh Pathak is a surprise candidate from Lucknow Central. He was accomodated by denying ticket to sitting party MLA Vidya Sagar Gupta.
The BJP has fielded Neeraj Bora, the son of the late D.P Bora, from Lucknow North.
Bora had joined the BJP during the 2014 Lok Sabha elections. The party's national Vice President and Lucknow Mayor Dinesh Sharma was vying for a ticket from there.
In Bijnur's Barhapur assembly seat, the BJP has fielded Sushant Singh, son of party MP Sarvesh Kumar Singh. Former MLA from adjoining Afzalgarh seat, Dr. Indradev was seeking a ticket frome Barhapur.
Noida has become one of the high profile seats of Uttar Pradesh as the party has fielded Union Home Minister Rajnath Singh's son Pankaj Singh, accommodating him by denying ticket to sitting MLA Vimla Batham.
BJP's district general secretary Sanjay Bali had resigned from his post in protest against the ticket being given to Pankaj Singh.
In Shahjahanpur's Dadraul seat, the BJP has fielded Manvendra Singh, who was earlier in Congress. This annoyed the party's district unit chief and dedicated worker since last 28 years, Rakesh Dubey, so much so that he even announced to immolate himself.
In Kairana, the BJP has fielded party MP Hukum Singh's daughter Mriganka Singh. Party worker and a strong contender Anil Chauhan raised the banner of revolt. Chauhan was the BJP candidate in the bypolls two years ago when Hukum Singh resigned after becoming an MP. He will now fight from Kairana on a Rashtriya Lok Dal (RLD) ticket.
The BJP is also facing rebellion on Gonda seat, where it has fielded Prateek Sharan Singh, son of party MP Brij Bhusan Sharan Singh.
Similarly, the party is facing rebellion in Mainpuri's Bhogaon, Fatehpur Sikri, Fatehabad, Agra Cantt, Nahataur, Siwalkhas and few other assembly seats.
Uttar Pradesh goes for seven-phased assembly elections from February 11 to March 8 for its 403 seats.
SUPPORT TWOCIRCLES
HELP SUPPORT INDEPENDENT AND NON-PROFIT MEDIA. DONATE HERE