By Ayushi Malik, TwoCircles.net 
Editor's note: The story is the final story in a three-part series on the three youth from Rajouri district of Jammu and Kashmir, who were killed in a 'staged gunfight' in Shopian on July 18. The series profiles the three youth and tells who they were before the unfortunate journey took them to Shopian. The first and second part of the series can be read here and here.
---
Support TwoCircles
---
Rajouri: The day Shameem Akhtar learnt about her son Imtiaz's killing in Shopian, she slept with his brown check shirt for three days unable to take it off of her. "Teen din tak shirt sath main lekar soyi, Apne aap se nahi utar payi, ki mere bete ki shirt hai yeh (She slept with her son's shirt for three days. She couldn't take it off her saying it is her son's shirt), said Saleem, Imtiaz's cousin.
All that has been left now of Imtiaz lies neatly in a trunk. The frail hands his 45-year-old mother shiver as she takes out his clothes from polythene bags and lays them on the floor in an orderly fashion. She takes her time with each piece of clothing as she lays them out carefully as a sign of respect and longingness for her son.
On 11 August, Shameem was told about the dreadful news of Imtiaz being killed in an encounter in Shopian on July 18. Called back from Dhok (a place at top of the mountains where they go in summers to graze their cattle) and unaware of the tragedy, the family broke the news to her in Rajouri on the day authorities collected DNA samples of the family members for identification.
"Barri mushkil se ghar pahunche the, 3 din tak Rajouri hi rehna para tha (It was difficult for her to reach home. We had to stay in Rajouri for 3 days)," adds Saleem.
Shameem Akhtar sits silently in her room. The loss of her 18-year-old son Imtiaz is heavy on her mind. Her void eyes speak of her misery when she remembers his voice. The last time Shameem spoke to her son was on phone at 7.30 pm on July 17. Shameem was in Dhok on 17 July with other family members, when Imtiaz called his maternal uncle, Lal Hussain, informing him of his whereabouts. "7.30 baje usne apne maamu ko call kiya, ki humne chawal, heater aur khane ka samaan le liye hai, to koi pareshani ki baat ni hai (At 7.30 he called his maternal uncle informing that they the trio has bought rice, cooking-heater and ration and have sorted everything. And asked us not to worry)," Saleem, his cousin adds.
Hussain, Saleem, Abrar and other cousins were like friends to each other, sharing their love for cricket. A friendly weekly cricket match was part of their routine. "Imtiaz played well," his cousin said.
Imtiaz was a responsible kid and was attached to his mother the most.
"Woh sabse zyada apni maa se pyar karta tha, jab bhi call karta tha puchta tha mummy ka kya haal hai? (He loved his mother the most and whenever he would call, he would ask about her health and well being)"
Imtiaz's brother Mohd Abbas is shy in nature and sits beside his mother holding her arm when I ask him, "When had he talked to his brother the last?" To which responded, "Baat nahi hui bhaiya ke jane par, sirf maamu se hui unki baat (He only talked to Uncle. I could not talk to him after he left).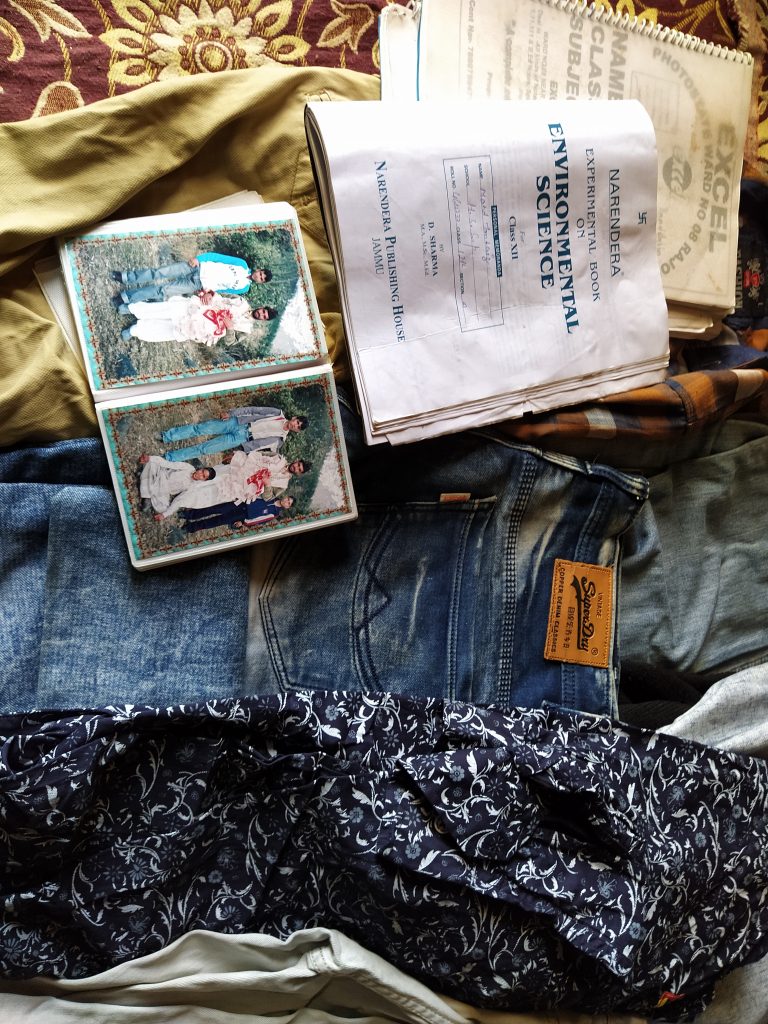 Unlike both Abrar's, Imtiaz left for Shopian a month earlier on June 16. He would work as a labourer doing multiple decent-paying jobs. "He was currently working as a mason," informs his paternal uncle Mohd Aslam.
"2-3 suit sath rakhe the aur makki ki roti aur lassi khayi thi jane se pehle (He had packed 2-3 pair of clothes and had eaten Makki ki roti aur lassi before he left)," remarks Aslam.
His mother doesn't have a phone, so he would call his uncle everyday to talk to her. "Video call karta tha humein seab ke baaghon se, seab khate hue (He would video call us from Apple orchards while eating them)," Saleem said.
Imtiaz had passed 12th class with distinction, Saleem states proudly. "He had opted for medical after 10th but always wanted to enrol in Army," Saleem said.
The family brought his shoes, books and old photographs. In one of the photographs, clad in a grey Kurta Pyjama, 8-year-old Imtiaz sits cross-legged at his Uncle's wedding.
"The fine young boy grew up to be around 7 feet in height with well-built physique, Saleem stated.
"Army main jana chahta tha (He wanted to enrol in Army)."
Imtiaz's beautiful handwriting in his notebooks and books are all packed and stored in the trunk and his shoes have been properly cleaned and dusted.
The family of seven, which includes father Sabar Hussain, mother Shameem Akhtar, brothers Mohd Abbas & Mohd Araf and sisters Farzana & Naseem, live in a newly constructed traditional mud house with 2 rooms, a kitchen and a storeroom.
His elder sister Naseem is unaware of the news, the family fears that she might harm herself if she knows about it.
"Bahut pyar karti hai, mar jayegi (She loves him a lot, she will die if she knows,)" they said.
Till 8th standard, Imtiaz studied in Iqbal Blue Horizon Public School, Peeri and shifted to Government Higher Secondary (same as young Abrar's) for further studies. He was fond of wearing new clothes and worked hard towards fulfilling his wishes. "Hum logon ki aukat nahi hai ki hum kaori ke shauk poore kare, shauk to bahut hain (We can't afford to fulfill our wishes of new clothes. We have many wishes though)," says Saleem.
According to the family, Imtiaz had been going to Kashmir for 2-3 years now, to support his family and his studies.
"Whenever schools are closed for months, most of the kids go out to earn. They are not dependent on their parents for studies. Lack of employment and better infrastructure forces them to leave their homes at a young age of 12," Saleem said.
Currently working as a mason, he was living in someone else's house where he used to work. The family claims that they would treat him as their own child. They requested him to continue living with them only after he was joined by his two brothers on July 17 and the trio rented a room to live together.
"Usi din kamra liya. Raat ko khana banaya. Shayad khaya ki nahi, koi ni pata (They rented a room same day, cooked food at night. Whether they could eat it or not, we don't know)," said Mushtaq, his paternal Uncle.
The family is trying to connect the dots on their own. "Uska bag un Kashmirion ke ghar hi tha Jahan woh pehle rehta tha (His bag was still in his previous landlord's house)," they said.
In a video doing rounds of the rented room, the family spotted his slippers and blanket. "Woh jo kambhal hai na video main aur chappal woh Imtiaz ka tha, aur woh kambhal usne unhi Kashmirion se liya tha," Mushtaq said.
Mushtaq recalls the last time he saw his nephew on June 16. "Jane se pehle mil kar gaya, usi din mila, usi din chala bhi gaya, jab bhi phone karta tha, mere bacho aur Biwi se bhi baat karta (Before leaving he came to visit and on the same day he left. He would talk to my wife and children too on Phone)."
Mushtaq, who is drowned in his memories, remarks. "Wahi sab bhoj uthata tha agar hum kahin ja rahe hote the, wahi ghar rehta tha (He would stay home to take care of everything when we had to go somewhere)."
After the last phone call at 7.30 pm, the family lost touch with the trio.
Thinking that they had been quarantined due to coronavirus, the family waited for 21 days before filing a missing complaint.
Saleem states that he along with his brother-in-law Naseeb Bokari filed a missing complaint about young Abrar and later sought Imtiaz's father's permission to file one for Imtiaz too. "On Eid, my little brother was missing Abrar and broke down crying. Only then, I decided to file a missing complaint," added Saleem.
Saleem said that on 10 August when he went to SSP Office to seek permission to visit Shopian, the photographs had already been doing rounds on social media.
"Jaise hi photos social media par aye hum sabne dekh liye, sabne kaha 'yeh aapke bache hain' (As soon as photos circulated on social media, we all saw it. Everyone recognized them and said 'They are your children')" Saleem adds with a heavy voice.
The photograph, leading to the identification of three cousins, is of three 'unidentified militants' killed in a gunfight in Shopian district of Kashmir on July 18.
"Behen ne rat ko hi bol diya ki yeh mera hi bhai hai, pehchan jate hain na hath se hi aur maa baap kaise nai pehchanege apne bache ko (The same night his sister identified from his hand and how can his parents not identify their own son?)", he said.
The gruesome image is engraved in their minds, giving birth to unanswered questions and anger over the horrible fate their children met.
Imtiaz's father is sick and had gone for a medical checkup. He was seen on social media seeking justice for his innocent son, who had gone to Shopian hoping to support his family and his dreams.
The family stands by their son's innocence and deny allegations of militancy against Imtiaz and both Abrar's. "Kahan mauka milta hai, subha jana sham ko ana, ghar ka kaam, ghaas kaatna, gareeb ka larka hai, koi income bhi nahi hai, raat ko aana aur thak ke so jana (How would he get into militancy. He was busy with household work and his studies. He would leave in the morning and come late at night and would sleep. We come from a poor family with no income)," adds Saleem.
Village Panch, Arshayad Ahmed, who calls Imtiaz his nephew, confirmed that there has been no militancy case in the village.
"Padhayi ka bahut shauk ka, yahan distinction lena bahut mushkil ki baat hai, militancy ki koi bat hi nahi thi (Imtiaz was fond of studies. It's difficult to score distinction here. There's no chance a hard-working kid like him would pick up guns).
SUPPORT TWOCIRCLES
HELP SUPPORT INDEPENDENT AND NON-PROFIT MEDIA. DONATE HERE