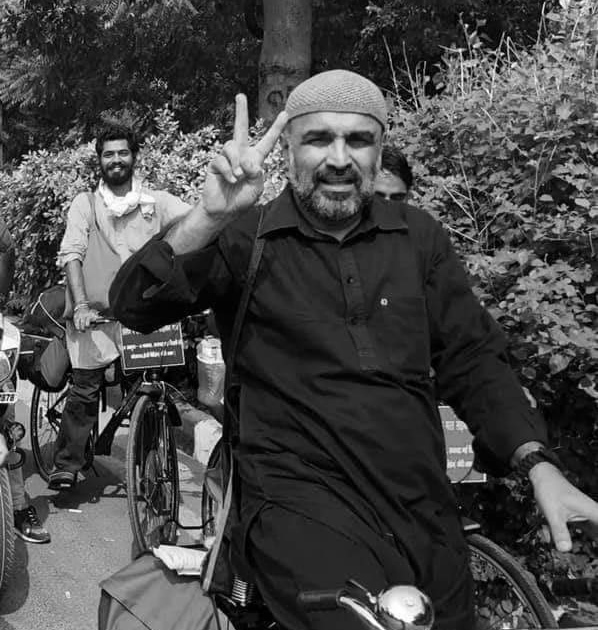 By Musheera Ashraf, TwoCircles.net 
Looking into the roots from the past, Khudai Khidmatgar meaning "Servants of God" was a predominantly Pashtun nonviolent resistance movement known for its activism against the British Raj in colonial India. The movement was led by Abdul Ghaffar Khan, known locally as Badshah Khan.
---
Support TwoCircles
---
Calling the present Khudai Khidmatgar in India a revival of the movement started by Khan Abdul Gaffar Khan Prof Vipin Kumar Tripathi, formerly working with IIT Delhi says that Faisal Khan started this movement Khudai Khidmatgar to work as an outlet to spread love and his act was a manifestation of love which should have been welcomed.
Khudai Khidmatgar regularly organizes yatra to spread the messages of unity, peace, love, tolerance, communal harmony and mutual trust and familiarity between people of various faiths. Khudai Khidmatgar members go and meet with the priests and saints of all faiths. Quite a few saints come to the 'Sabka Ghar' situated in Jamia Nagar New Delhi where the Khudai Khidmatgar live and work from. Sabka Ghar has been the fountainhead for messages of unity, peace and fraternity for many youths and their organizations belonging to different religions.
A founding member of Khudai Khidmatgar, Faisal Khan was arrested on 2 November from their communal harmony centre, 'Sabka Ghar' in Delhi and taken to Uttar Pradesh by the UP police. Along with Faisal Khan, three other members of the organization, Chand Mohammed, Alok Ratan, and Nilesh Gupta have been charged u/s 153(A), 295 and 505 of the IPC in an FIR filed for offering namaz in the Nand Baba temple in Mathura on 29 October 2020, for taking photos and for sharing the photos. On 29 October, Faisal Khan had posted an update on this Facebook account: "Yatra Completed # Braj 84 Kos Parikrama – a yatra from 26th to 29th Oct for religious harmony, love, kindness and tolerance. The yatra ended at Nand Baba Temple in the village Nand near Mathura. A journey full of love and brotherhood through the Braj has come to an end."
The National Alliance for People Movement condemned Faisal Khan's arrest. "We believe that the charges filed against these youth leaders have been a direct result of their peaceful work and messages of love, tolerance and unity. There are multiple instances where voices calling for peace, love and tolerance – core values enshrined in our constitution – are being targeted to create or deepen rifts within Indian society. The ideals espoused by Khan Abdul Ghafar Khan when he founded the Khudai Khidmatgar provide the antidote to the venom spewed by those who think that religious fundamentalism is the only way to practice their faith."
Mayank Austen Soofi, popular by the name Dilliwalla wrote that Faisal Khan is well versed in the Chaupais of the great Hindu epic as he is in the verses of Quran. He calls him one of the one per cent in 13 million.
Several members of National Alliance for Peoples' Movement spoke in a press conference held via zoom. Father Anand from Banaras who works for Sadbhavna among people of different religious faith said, "Faisal Khan's arrest is condemnable." He also pointed out the working of TV channels who are portraying Faisal Khan as a terrorist who wants to harm the peace of the country. "If his act was something that is considered as an act of spreading religious hatred then I, along, with the people who work for religious prosperity should be arrested," he said, and added, "This matter should not be politicized and he is being treated with hatred in return for his love for all the religions."
Father Anand calls it a conspiracy by the Uttar Pradesh government and propaganda of Indian TV news channels to spread fear among people.
Acharya Yugal Kishore Sharan Shastri Mahant of Ram Janki Mandir, Ayodha said, "Faisal Khan is well known in India and across borders for his good intentions". He said that Faisal has been a regular visitor to their temple and they have offered namaz many times. "His acts strengthen the Ganga Jamuni tehzeeb of India," he adds.
Sunita Vishvanath, representing Hindu Special Human Right also condemned the arrest of Faisal Khan and his associates through her video message that circulated online. She demanded their immediate release saying "they haven't committed any crime." She believes that Faisal has always worked for the upliftment of mutual harmony among people of different faiths. "His only message is peace and harmony along religious lines," she said.
She further said that they have been following the activities of Khudai Khidmatgar since long and adds that 'Faisal Khan is our modern-day frontier Gandhi continuing the legacy of Badshah Khan.'.
SUPPORT TWOCIRCLES
HELP SUPPORT INDEPENDENT AND NON-PROFIT MEDIA. DONATE HERE