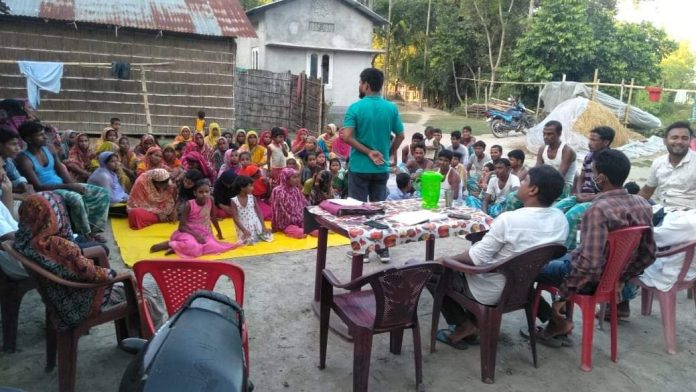 This is the fourth and final part of the TCN Ground Report series on the poor educational scenario in rural Assam where Muslims make the majority share of the population. In Assam's Darrang district's Dalgaon Education Block, which administer the schools in the Muslim majority region, high teacher-student ratio or Pupil-teacher ratio (PTR) is ailing the education system with a high PTR of 35.8:1 in I to VI standards (primary school) and a 49:1 in VII to VIII standards (upper primary school). The high PTR and poor learning mechanisms is leading to dropouts and resulting in child marriage as well as creating early-age migrant labourers. 
Part I, Part II, and Part III of the series can be read here, here and here. 
---
Support TwoCircles
---
Mahibul Hoque | TwoCircles.net
ASSAM – Although the Right to Education Act (RTE) 2009 ensures free and compulsory education in India, nearly 32 million students between the age group 6 to 14 years dropped out of school during 2017 and 2018 as per the National Sample Survey Organization's household survey. The critical status of education got from bad to worse in 2020 following the outbreak of the Covid-19 pandemic as per the Annual School Education Report (ASER) which said that 9.2 per cent of children of the country between the same age group did not enroll in schools in rural India.
Such a massive surge in dropouts is of critical concern for India, as youth make up 34 per cent of the 1.03 billion population of the country.
While the country faces an uphill task to improve its education sector, the dropout rate in the north-eastern state of Assam was particularly high during 2017-18 with a 10.1 per cent dropout rate in the primary section (I to V) and 33.7 per cent in the secondary section (IX to X). 
However, the ASER 2020 report reflected that out-of-school children in Assam reduced to 1.2 per cent of total children in the state between 6 to 14 years, but dropouts remain a major challenge in vulnerable districts like Darrang.
"The region, coupled with various problems like cultural practices, poverty, and very high illiteracy rate, needs specific and multi-stakeholder intervention to tackle the problem of school dropout especially between VI to VIII standards. During this period children are in a crucial learning stage," Fakkaruddin Ali who leads Saikshik Jagaran Manch, a collective of more than 150 volunteers who are working to get the dropped-out children back to schools, told TwoCircles.net. 
Feeling the need for urgent intervention as several children from the region were either becoming child brides or child labourers after dropping out of school – the local teachers, activists and educated youths formed this network to provide various assistance to the children. 
When the first nationwide Covid-19 lockdown put millions of children out of schools, the collective took the responsibility of monitoring the vulnerable children, especially girls.
Fakkaruddin said students from the region remain largely slow learners, defined as a category of students who are 'not good in their studies'. As the region is dependent on agriculture, slow learners from poor families join the workforce to help their parents or migrate along with the family to earn as the parents see no future in education.
"Boys, who fail in IX or leave school between VI to VII become agricultural labour or migrant labourers and girls are generally married off. If their learning needs are taken care of, we think many of the child marriage and child labour cases will be addressed itself," he said. 
The collective reach out to the people of the village to map out the educational status of each village they intervene in. The volunteers divide the village into small clusters to specifically identify the cases of slow learners, not-going-to-school children and children working with their parents. Once identified, the team engages with the parents so that they allow the volunteers to provide remedial assistance to children.
"In each village, we find 10 to 12 cases of dropouts. Of these, most boys are child labourers and also we find child marriage cases. These families are very poor and they need assurance that their children will be provided with necessary learning assistance," said Mazida Bhanu from No 1/2 Baruajhar village who leads the women wing of the volunteers' network.
The group provides special remedial learning classes to the students who are slow learners. For children who have dropped out, they employ traditional methods of visiting door-to-door to get back children to schools, and organizing participatory plays involving children and singing poems and songs.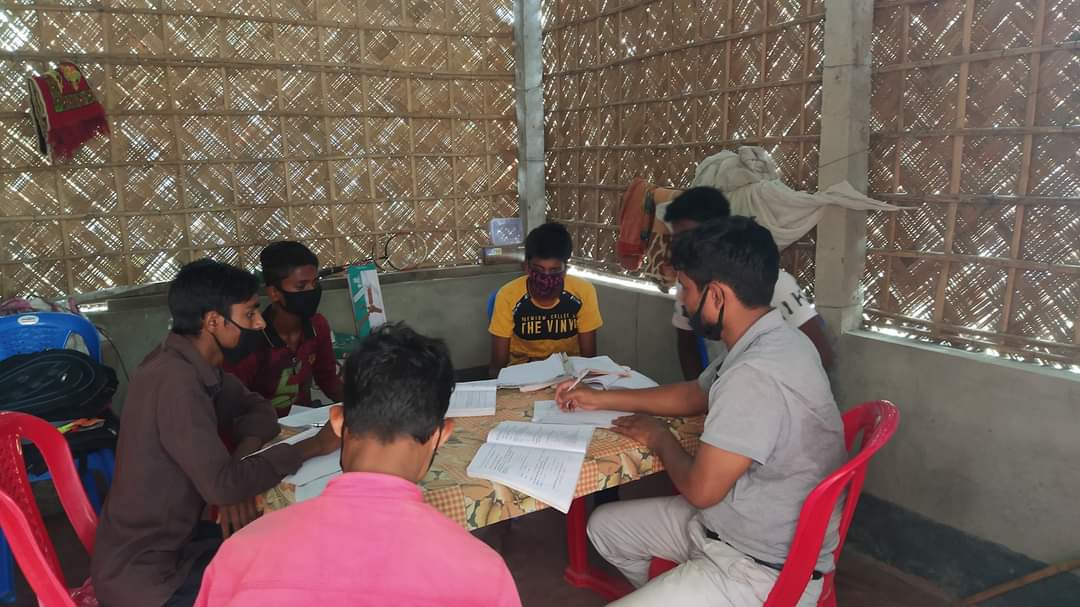 Shah Alam, another volunteer from the collective told TwoCircles.net, "Our parents told us that teachers earlier used to roam around from house to house and asked the families to send their child to schools. We are carrying out that 'traditional practice' in such modern times."
After forming the collective two years ago, the volunteers have reached out to more than 1000 children, mostly primary and upper primary school children who require remedial classes.
In eight remedial class centres called 'Jagaran Pathsalas' such children are given classes so that they can perform well in school and eventually continue education.
"Till now we have re-enrolled 38 students who dropped out of school in various classes according to their learning ability and age. Certainly, they have been rescued from child labour for now," said Abu Khair, an activist and a member of the volunteer collective.
He further said that individual learning care is necessary to stop dropouts in Muslim regions to tackle the issues of child marriage and child labour cases.
"To tackle this, we need more teachers in our region," he said, adding "As the second wave of Coronavirus is devastating India, a higher number of dropouts are inevitable. As concerned citizens, everyone should be vigilant so that child marriage and child migration for labour does not occur." 
SUPPORT TWOCIRCLES
HELP SUPPORT INDEPENDENT AND NON-PROFIT MEDIA. DONATE HERE