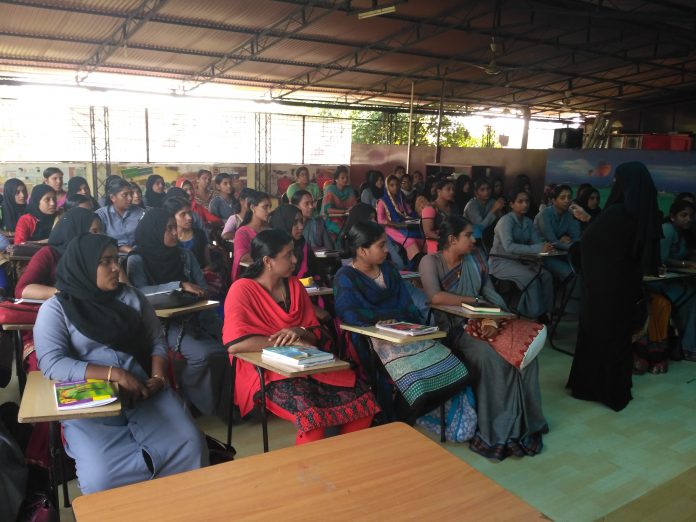 A collection of some of the positive stories done by TwoCircles.net. Get inspired !
---
Support TwoCircles
---
Stories
Malappuram : Rasiya Mohammedkutty: A Muslim woman who teaches both Sanskrit and Qur'an
पटना (बिहार) : इबरार रज़ा : दलित-मुसलमानों में जागरूकता लाने की एक मिसाल
Doda (J&K): By educating children in a village, Kashmiri youth continues mission of his father killed by the Army
बेगुसराय: भंते बुद्ध प्रकाश : जादूगरों की बखिया उधेड़ने वाला जादूगर
Delhi: Pratik Parmar: Challenging the Savarna hegemony with a camera in hand
वाराणसी: अपने गाँव को शिक्षित किया तबस्सुम, तरन्नुम और रुबीना ने
Solapur: Aftab Sheikh: A 22-year-old felicitated by the Govt of India for his social work and leadership
Maharashtra: Usman Jamadar: For whom religious service and social activity are two sides of the same coin
Aazamgarh: दलित-मुस्लिम महिलाओं के हक के लिए लड़ती कनीज़ फातिमा
Mumbai: Yogesh Wajnari: Translating Dalit literature so that Ambedkarite struggle can be looked through its originality
Shirpur: Dattu Thorat: A mechanic working to improve education levels in Shirpur
Kannur: Rupesh Kumar: A Dalit filmmaker, academic, journalist with the sole aim of destroying casteism
Kutch: Sufiyan Khatri: An artist who is helping an entire village earn a living through an ancient artform
Solapur: Jahangir Shaikh: A guardian of unclaimed dead bodies
Patna: Shazia Khan: An entrepreneur trying to mentor Muslim women find their feet
Patna: Hussain Rizvi: A resident of Patna with international recognition for his selfless services
Solapur: How 7 teachers in Solapur took it upon themselves to improve education in Urdu schools
Patna: Savita Ali: Raising her voice to highlight atrocities against Dalit and Muslim women
Kerala: How Binesh Balan, an Adivasi, fought the Kerala bureaucracy to achieve his dream of studying abroad
Pune: Saleem Mulla: The man for whom rejuvenating a dead well was not a choice, but a duty
Mumbai: Dadarao Patekar: Fighting for the rights of Mumbai's Safai Karamcharis
Florida: She almost did not become a Doctor; but now Dr Farida Ghoghawala helps thousands of women for free
Delhi: शाह आलम : साइकिल से ढूंढी चम्बल में आज़ादी की कहानी
Malappuram: Bappu Haji: An octogenarian who lives only to serve others
Udalguri, Assam: Chandan Boro: Son of a sweeper from Assam selected for Football training in Germany
Bihar: गरीब मानसिक रोगियों के मसीहा डॉ. उदय कुमार
Mumbai: For Asit Sapkale, music is synonymous with resistance
Mumbai: How Santosh Thorat is helping rebuild homes, increase literacy in Mumbai's Dalit colonies
सीतामढ़ी(बिहार): सफ़दर अली : मुसलमानों की तरक़्क़ी का आन्दोलन
Kozhikode: From actors to money, how a Malayalam filmmaker is redefining the concept of 'crowdfunding'
Varansi: एक गरीब बूढ़े का घायल जानवरों के लिए सत्याग्रह
Patna: गांव का हुलेसवा बना डॉ. हुलेश मांझी
Goalpara:In Goalpara, a tribal theatre troupe connects people with the nature thanks to Sukracharya Rabha
Latur: Maheboob Syed: A life dedicated to caring for birds and animals
Guwahati: When a Guwahati auto driver's exemplary honesty stunned his passenger
Hyderabad: True to their roots: US-based Indian doctor couple come to India every year to treat poor patients
Dehri-On-Sone(Bihar): दूसरों के न्याय के लिए लड़ते इज़हार हुसैन
New Delhi: In the lanes of Batla House, a mission to empower women
Nokha: दलितों की लड़ाई के अहम योद्धा मंगनाराम मेघवाल
Kerala: Dhanya Raman: Giving a voice to the marginalised in Kerala
Bihar: बिहार के गरीब स्कूल की रंगीन कहानी
West Bengal: Samim Sarkar: Running a coaching centre to help poor Minority students
West Bengal: Kutubuddin Khan: Engineer devoted to making the world a greener place
Aurangabad (Maharashtra): Yusuf Mukati: Empowering the poor through a multi-utility resource centre
Utter Pradesh : Manjula Pradeep: Working tirelessly to ensure equal rights for Dalits
Maharashtra : Aamir Edresy: Helping the under-privileged through the Association of Muslim professionals
Uttar Pradesh : विनोद यादव –सताए हुए तबक़े की एक मज़बूत आवाज़
Kerala : Mohammed Ali Shihab: An inspiring journey from orphanage to UPSC
Assam : Mustafa Ahmed: Child Scientist from Assam who developed a seed storage system
Karnataka : For Ali Khwaja, counselling is the key to building people's lives
Bihar : 'बिहारी' जो ऑक्सफोर्ड को किशनगंज ले आए…
Assam : Raham Ali: The farmer who donated land for school
Maharashtra : Waseem Siddique: A software developer with a passion for social work
Uttar Pradesh : मास्टर क़ासिम : शिक्षा की मशाल जलाकर हज़ारों ज़िंदगियां कर रहे हैं रोशन
Andhra Pradesh : For Abu Aimal, journalism remains a means to help the needy
Bihar : गांव सुधारने निकले एक शख्स की अनोखी कहानी
West Bengal : For Bebyda Khatun, a National award is the ideal recognition of her efforts as an Anganwadi worker
Andhra Pradesh: Sowing the SEED of progress among Indian Muslims
West Bengal : Kolkata girl aims to knock out poverty with the help of Karate
Delhi : Despite disabilities, Faisal Nawaz aims to empower Muslim women in Delhi
Kolkata : 58-year-old earns less than Rs 70 a day but still runs an orphanage and a school
Uttar Pradesh : मरे हुए लोगों के रखवाले – भोलानाथ एंड कंपनी
Uttar Pradesh : Danish Suhail: Dedicated for the people of misfortune
Maharashtra : Lifelong struggle against the caste system to create a life of dignity
Assam : Tayabun Nisha, first woman from Assam to win medals
Uttar Pradesh : Lobbying for Urdu & History: Abdul Naseer Nasir
West Bengal : No handicap to success for Jahanara Khatun
Maharashtra : Mirza Aejaz Baig: An ordinary teacher with an extra-ordinary zeal for poor to complete their matriculation
Uttar Pradesh : बीस साल के लड़के का सत्याग्रह
Jammu and Kashmir : RISE and shine: opportunity for Kashmiri students to be IITian/NITan
Kerala: A Hindu and his designer mosques
Assam: Benedict Areng: Fighting a life-long battle for betterment of Garos
West Bengal: Zainab Sayeed: UPSC cracker who wants more Muslim girls to be IAS
Jammu and Kashmir: Conflict to peace via women: Helping distressed women in J&K
Uttar Pradesh : Samina Bano: The girl who makes RTE work
Maharashtra : From scavenging to doctoral dreams: An inspiring journey of Sunil Yadav
Maharashtra: For the Love of Urdu: Running free Urdu classes
Karnataka: Ashiyana: Bengaluru's old age home
Kerala: Twelve-year-old tennis prodigy blooms in Kerala orphanage
Maharashtra: Advocate Tahiwar Pathan: Defending community more important than earning money
West Bengal: A school drop-out who is helping to educate thousands
UAE: 'Aaghaz': Mission to 'educate to advance' for a better life
Assam: Entrepreneur Habib Chowdhury spreading aroma in Laos to strengthen India's 'look east' policy
Uttar Pradesh : बनारस से फैलता भारत-पाक एका का राग
Kerala: Her Hijab no deterrent, this IAS officer determined to work for marginalised sector
Gujarat: From being local to going global, journey of a minority school of Gujarat
Uttar Pradesh: Bringing light into people's life: A story of 'electrifying' Lucknow couple!!
Saudi Arabia: Banking on quality education: Mission of Mansoor Durrani
Delhi: Locals keep Delhi's oldest orphanage running
Assam: On 'Mission Impossible', this Assam doc uses religious text to propagate health
Uttar Pradesh: Kunta Devi: A woman farmer from UP
Chhattisgarh: Padma Shri Saba Anjum Karim: Story of Grit, determination and much more
West Bangal: Rahima Khatun: Exemplary work in the field of Muslim women empowerment and children's welfare in West Bengal
Andhra Pradesh: Giving wings to dreams and a Sunday School!!
Jammu and Kashmir: Haji Public School: Redefining rural educational scenario in Jammu & Kashmir
Andhra Pradesh: Businessman who enjoys establishing schools rather than building skyscrapers
Andhra Pradesh: This women's day meet Captain Salva who dared to dream of skies
Maharashtra: Pune's youth balance high-profile careers still reach out to the underprivileged
West Bengal: Nabadisha: A new direction towards free medical services, medicines for poor
Andhra Pradesh: Taking the Ghazal route for learning Urdu, beats all divides
Andhra Pradesh: Doctors of conscience travel thousands of miles to serve the needy
West Bengal: Good Samaritan taxi driver builds free primary schools, orphanage in remote Sundarban village
Andhra Pradesh: Health camps of US doctors for poor patients in Hyderabad
Kerala: Thanks to Shamsheer, NRIs to be allowed voting
Delhi: Noor: Bringing a new light into lives of women from Basti Nizamuddin
New Delhi: 'Muslims of India' FB page to document, celebrate community's past and present
Karnataka: Empowerment through value education: Touching lives of underprivileged students
West Bengal: Arshi Hasmat tops WB Judicial Service Exams; 19 Muslims among 117 selected in 2014
Maharashtra: Gulzar Azmi: A man with hunger for integrity and justice
Kerala: Over four decades of selfless service for those in pain
Assam: Giving a new life of dignity to the deserted elders
Karnataka: Azeem … Ever Glowing Candle!
Uttar Pradesh: Babri case litigant for lifetime but never oppugnant of Hindu-Muslim syncretism
Maharashtra: Incredible life of Rubina Patel
SUPPORT TWOCIRCLES
HELP SUPPORT INDEPENDENT AND NON-PROFIT MEDIA. DONATE HERE