Auqib Javeed, TwoCircles.net
Kupwara: Watching the debris of his house that he had made over years of hard work along with his three sons, Mohammad Shaban* wails inconsolably. Shaban has just returned to his village where the cross border shelling has recently claimed over three innocent lives (including a minor), and rendered over 6 families homeless.
---
Support TwoCircles
---
On April 12, residents of Chowkibal and Timuna of north Kashmir's Kupwara district were locked inside their homes due to ongoing nationwide lockdown in the wake of pandemic coronavirus when around 4 PM, they witnessed an intense shelling between Indo-Pak forces.
"Suddenly a shell landed and panic gripped the whole area," told Shaban to Twocircles.net. He said that people started to run to safer places as soon as the loud shelling was heard and many even abandoned their homes immediately as the firing continued blasting the two villages located along the Line of Control (LoC) forming the de facto border that divides Kashmir between India and Pakistan.
"I thought everything is going to end now," recalls Shaban, who along with his family, left behind everything and fled from the area to save their lives. Owing to social distancing norms and the coronavirus scare in place, he added, not many doors were thrown open for them and it was like running towards death and darkness. His family spent the whole night in a load carrying vehicle in a nearby village. The next day when he returned, a mountain of rubbles was waiting in place of his house.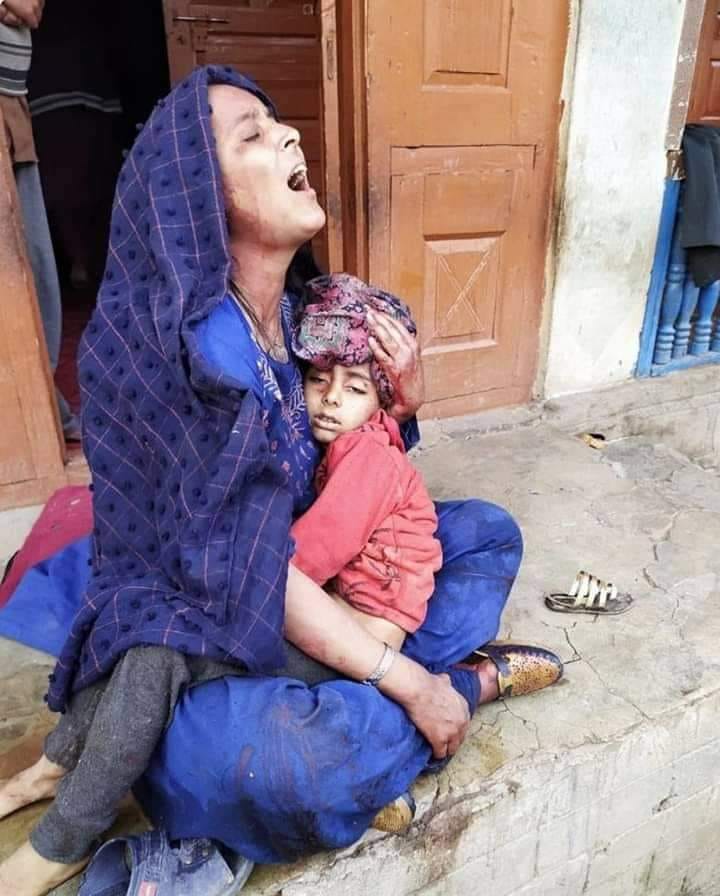 One of the shells, probably from Pakistan, had hit his house and everything shattered. But even before the shells would drive them out, a sudden fright had overtaken the villagers as Indian Army moved artillery weapons in an open field surrounded by over 200 houses in Panzgam and Rawatpora villages, a few kilometres away from Chokibal. Just around the time, a video of locals including women and kids having heated arguments with the troops had went viral on social media. In the video, villagers can be seen shouting at soldiers, "Kill our kids instead of escalating the situation amid novel coronavirus scare."
According to reports, the army had surrounded Jahaz Ground, the local playground for children, gathering a strong protest from residents as soon as it deployed artillery.It may be noted heavy exchange of gunfire and shelling occurred at LoC in Kupwara's Keran on April 10. The shelling took place after a deadly gunfight in Karen sector in which 5 militant and 5 paratroopers were killed.
Another local from Panzgam reported that the Army is using civilians as human shields and doesn't bother about safety and security of villagers. "By placing the artillery weapons in the civilian area they are using humans as shield as they know Pak won't attack on civilians."
The village has now been declared as Red Zone by the authorities due to increasing number of COVID positive cases, leading many to flee the villages. But not everyone has the option. "We requested both the governments of India and Pakistan to hold shelling in this time as the world is fighting against pandemic Coronavirus," said a relative of a deceased woman who died in the shelling.
One of the deceased women was a mother of four. Another one among the dead is an 8-year-old boy who succumbed after being hit by shrapnel during cross LoC shelling in village Tumina. The picture of his mother wailing while holding her son's body has gone viral on social media. Another viral video shows a girl appealing the governments of India and Pakistan to halt the shelling in wake of the coronavirus. The girl says it is unfortunate that people are being left homeless and are being terrorized even at a time when the whole world is battling a deadly virus.
Shaban is thankful that his family is safe and is hopeful that the house can be rebuilt but the question which he along with many others living along the LoC have is, "For two long we will live in fear?"
*Names of the characters in the story has been changed to protect the identity of the people
SUPPORT TWOCIRCLES
HELP SUPPORT INDEPENDENT AND NON-PROFIT MEDIA. DONATE HERE